Volleyball remains undefeated in districts
The volleyball team defeated Princeton and Sherman in this past week's games, contributing to a now 11-0 district record and a ranking of No.1 in the state and nation. 
"We knew that Princeton wasn't one of our hard games of the year, but they could still beat us if we played sloppy and didn't put in effort," junior defensive specialist Brooklyn Lloyd said. "However, just like the first round of playing them, we worked hard and came ready to play."
For the second round of districts, the team is using their knowledge of how opponents play from previous games to prepare. 
"Getting to play a team the first time allows you to scout the other team and figure out their tendencies, so we are able to know how to prepare," head coach Ryan Mitchell said. "We learned the importance of closing out a set when we're down and being able to finish the ball further down."
The upcoming game on Friday will be against second place district opponent, McKinney North. The team is preparing for a challenging game, looking to win the district championship. 
"McKinney North is second in the district, so if we win, we win the district championship but if we lose, we're tied," Mitchell said. "McKinney North is a really good opponent. They're really big and physical so we've been working on our blocking and ball control to prepare for that."
With playoffs around the corner, the team is using district play as practice. The team has been working on their goal of winning state and using each game to get closer to reaching that goal. 
"Our district isn't the most competitive, but it has allowed us time to sort of warm up as a team and come together," junior pin hitter Avery Villerreal said. "Practices continue to be focused on everything that we need to work on in order to be the best we can be. Our practices are competitive, and they prepare us for tough matches we might have to play in the playoffs." 
The team's success throughout the district season has placed them at No.1 in both the state and country. All of the team's games and wins have contributed to think ranking as well as their extra practice. 
"I think we all have an inner motivation that is keeping this team at this high level," Lloyd said. "Our coaches are the best and train us everyday and are always looking for how we can grow. We live by the phrase 'winning in the dark,'' which means putting in work not just in front of the crowds, but working the extra mile when nobody is watching."
Leave a Comment
About the Contributor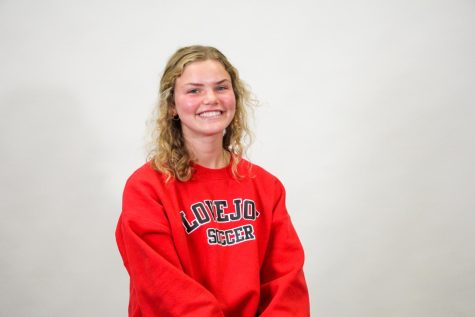 Margo Friloux, Section Editor
Entering her final year on staff, Margo is excited to work with her Co-Sports Editor and Leopard Life alum, Will Doig. This year is bittersweet to Friloux....