Volleyball defeats Princeton on senior night
The volleyball team won against Wylie East on Friday and Princeton on Tuesday night bringing them now to a 3-0 district record. Tuesday night's game was senior night, and all 10 seniors on the team played and contributed to the victory over Princeton. 
"We take it game by game and focus on the things that we need to work on," senior libero Callie Kemohah said. "Our team has so many incredible players, and at times we can take our district for granted. We beat teams pretty badly at times, that can't get to our head. We need to take every game like a 5A State Championship."
After being state champions last year, the team continues to improve their skills with the goal of returning to state this year. 
"We don't really have enough challenging teams in the district, so it is hard to keep focus," junior setter Averi Carlson said. "But I think that we did play very well. We really came together despite not playing for two weeks. We were so ready to get back on the court, and I feel like it showed."
The volleyball team was sent home to quarantine for two weeks on Oct. 15 and missed all of their pre-season games and practice opportunities. 
"Since districts have started we have been getting back in the gym and practicing on those things to prepare us for our next opponents," head coach Ryan Mitchell said. "We have really started to refine some little things in practice to give kids confidence in their skills going forward."
 Practices are focused on perfecting the details that will help the team prepare for future opponents. The team's focus is creating game-like scenarios at practice to better their performance. 
"We have had to play against each other in practice a lot more now since we missed all of preseason," Carlson said. "We have worked on all aspects of the game and focused our techniques to help us all be the best players we can be."
The team is prioritizing teamwork over everything else, so they play cohesively on the court. Practices are preparing the team for next Tuesday's game against McKinney North.
"Practice is a crucial part of the game," said Kemohah. "We're building our chemistry and game strategies for the future. Although we sweep teams in our district, it takes mental toughness not to slack off and play down to the competition." 
Tuesday's game was not only preparation for future opponents, but also a time to recognize the seniors, which made the game special for the players, parents and coaches.
"Senior night was so special because you work so hard all throughout your high school career to end up at that one moment," Kemohah said. "I'm so lucky to be a part of the Lovejoy volleyball program. The coaches, teachers, students, families are one of a kind. I'm forever grateful for the impact that Lovejoy has had on my life." 
Leave a Comment
About the Contributors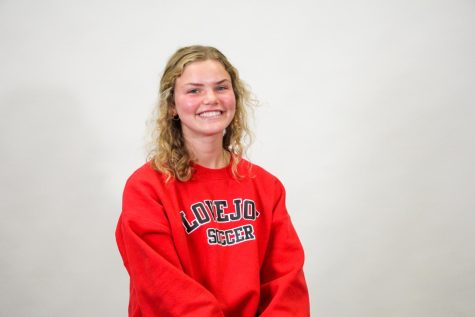 Margo Friloux, Section Editor
Entering her final year on staff, Margo is excited to work with her Co-Sports Editor and Leopard Life alum, Will Doig. This year is bittersweet to Friloux....