Featured Athlete: Jaxson Lavender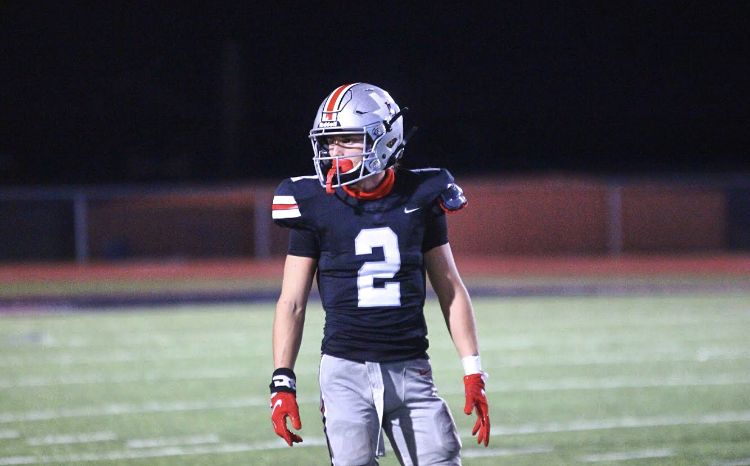 Sophomore Jaxson Lavender is new to the district. He is a starter for the varsity football team, and his dad is one of the coaches. Lavender also runs track. 
Pre-Game
Favorite pre-game song: "First Day Out" by Tee Grizzley 
Teammate you would want to be stranded on an island with: Ralph Rucker
Position: Wide receiver
Athlete you look up to: Julian Edelmen
How many years have you been playing football: 10 years
Favorite sport besides football: Track 
Favorite college team: Texas Tech
Pre-game rituals: Wearing a penny cross necklace under football pads every game
Post-Game
The Red Ledger: What are your future goals, football or otherwise?
Jaxson Lavender: I would like to go play at any D1 college and hopefully succeed, either from an academic standpoint or maybe eventually, go into the actual league for football. That's always been a dream of mine.
TRL: Who inspires you?
JL: My dad. He overcame a lot, especially as a child. His dad worked him to the bone. He told him he wanted to be good at what he does. He wanted to be the best at football and track, and he worked so hard. He finally got to a point in college where he succeeded but wasn't able to go farther than that. My goal in life was to accomplish what he couldn't maybe go past division one college football. 
TRL: How has being a part of a team for so long changed you as a person?
JL: I've always loved bringing people up with each other. I've always found that fun and exciting. I mean, not only does it make me feel good, but other people too. I love the fact that football you're able to bring each other up. That is one of the great things about the sport. In the game, you need 11 people on each side.
TRL: How has track helped you succeed in football? 
JL: Track has had a big role in me succeeding in football. It's helped me with fixing my stride, and helped me become a faster athlete. Being able to run, but also being aware when you run, it's different. It kind of slows things down in a way. Running in general helps shape wise and with physical attributes. 
TRL: What injuries have you had throughout your career that have impacted you as a player? 
JL: I stress fractured my back, which set me back six months. It happened during quarantine, so nobody else was really able to do anything. Ultimately, it was a great situation for me. I was able to improve and strengthen my body when others really couldn't do much.
TRL: How has your family gotten you to where you are now? 
JL: My family has been a big role. My dad is very well connected because of all the hard work he put in in his life. He's very well connected, and he shares those connections with me. 
TRL: What is your favorite memory as a Lovejoy athlete so far? 
JL: Post-game locker room after a good win. There's nothing like it. It's a family atmosphere. It doesn't matter where you're from or what you did. Everybody is just having fun, and enjoying the win. It's always awesome. 
TRL: What is it like to have your dad as a coach? 
JL: In my early years, it was a struggle. It's kind of just different. I would get a little frustrated, but at the same time, I quickly realized that he only wants the best for me, so I just stopped making him my dad and more of a coach. Ultimately, he was the best. I get treated differently, but I understand why now; because I'm supposed to be different. I'm the coach's son. It's ultimately going to make me a better person.
TRL: What was your experience moving into the district? 
JL: This has probably been one of the easiest moves I've had. I've never been around a group of nicer kids than Lovejoy kids. It's almost weird. They're all just open to everybody. They're just so nice.
TRL: What is it like to be a varsity starter as a sophomore?
JL: It's a good experience. Until this year, I had yet to start on varsity. It was a cool experience just because I've watched it for so many years. It makes it come full circle. It's helped me realize there's so much more to improve on, and there are good things in the years to come.