Volleyball wins first district game of season
Yesterday, the volleyball team began their district season with a winning sweep against The Colony. With set scores of 25-6, 25-13 and 25-20, the girls started off districts with a 1-0 record.
"We've been preparing for this season since last March," head coach Ryan Mitchell said. "COVID-19 and quarantine were obvious setbacks, but this team is resilient and ready to get the season started. It was great to get our first game played and have the girls have a chance to compete again."
After quarantining for two weeks and not practicing, the team worked this week on getting back into their routine. The team added extra time to each practice to make up for those two weeks lost.
"Missing two weeks of practice mainly affected our passing consistency and serve receive," senior middle Lexie Collins said. "We did come out and pass well after being off for so long though. I don't think that missing two weeks of practice really showed against The Colony. Had it been a different team with a higher level of play, it might have."
The team is practicing Monday, Wednesday, Thursday and Saturday during their class period and after school, while also playing games on Tuesdays and Fridays. The team practices consists of conditioning, weight room and volleyball drills. 
"We have mainly focused on staying adaptable and making sure that we can stay at the top of our game as circumstances and requirements to play change," Collins said.  
After being state champions last year, the team is looking forward to another successful season. 
"I think the tone is set that Lovejoy is ready to play volleyball, and you better be ready to play if you're gonna beat us," Mitchell said. "We want to win another state championship this year. We have ten seniors that want to get back to that moment and experience it again."
With uncertainty of what the season brings, the team is putting emphasis on foundational skills and communication.
"My hope for the season is to make it to state and win state again," junior setter Rosemary Archer said. "Our team is doing really well adapting to being off for two weeks. I think everybody is connecting well." 
Leave a Comment
About the Writer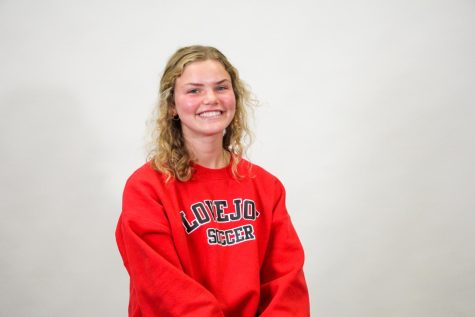 Margo Friloux, Section Editor
Entering her final year on staff, Margo is excited to work with her Co-Sports Editor and Leopard Life alum, Will Doig. This year is bittersweet to Friloux....