Featured Athlete: Cecily Bramschreiber
Senior Cecily Bramschreiber is entering her fourth year on varsity volleyball. She committed to play volleyball for Texas Christian University at the beginning of her sophomore year. Cecily will be graduating early and plans on starting TCU in January.
Pre-Game
Position: Outside hitter
Favorite pre-game songs: "Get Silly" by V.I.C and "Lip Gloss" by Lil Mama
Favorite pre-game meal: Eating at Panera with the team during playoffs
Any pregame ritual or routine: Nope, but pre-game locker room dance parties are a must
Favorite offseason workout: A friendly game of dodgeball
Least favorite offseason workout: Any type of sprinting
Years of volleyball experience: Over nine years
Post-Game
The Red Ledger: What initially got you interested in volleyball? 
Cecily Bramschreiber: My mom played in college and has been a coach and director for Madfrog Volleyball my whole life. Also, my big sister played who is now playing for Baylor Volleyball. So my whole childhood was surrounded by volleyball.
TRL: Where have you played volleyball and how has playing for those teams impacted you? 
CB: I've played for one club since I was eight years old, and that is Madfrog. That gym is my second home and staying there all this time has given me the opportunity to really see players grow overtime and learn how to develop a team over the years. Playing at Haggard Middle School in 7th grade, moving to Willow Springs for my 8th grade season, then competing all throughout high school has introduced new challenges which have helped me grow as a team leader, teammate, and person.
TRL: What is your greatest success as an athlete? 
CB: This past season brought up a lot of success for both myself and our team. We won the 5A state title, which helped me earn the 5A MVP award. Also, I now hold the school record for career kills. 
TRL: What does a week in your life look like? 
CB: Typically, I'll have school work in the morning and throughout the day, then school practice every non-game day early before school starts or after class. Then during club season, I would leave from school practice to go to Madfrog two or three times a week. However, COVID has altered some of the stuff, so we have a couple less practices but we make it work. Then I'll find time for friends somewhere in between.
TRL: Who has been the most influential person in your life? Why? 
CB: Probably my mom. She works hours on end not only to provide for our family but for all the other volleyball families looking for future colleges and scholarships for their kids. 
TRL: What did the commitment process to TCU look like? 
CB: I started talking to the TCU staff my freshman year. Colleges want to know who their players are, so most of the calls were to get to know each other and find things I'm interested in and what makes me who I am. Eventually these calls turned into camp invites and meeting at tournaments and practices. Finally, I went on my first campus visit with them and from that point I knew it was where I wanted to be. Once I committed a couple weeks before my sophomore year, I would continue to go to camps and keep in touch with them as I still do today.
TRL: What was your initial reaction to hearing from TCU?
CB: When I first saw they wanted to get on the phone with me, I was kinda shocked. It was a Big 12 school and I guess I wasn't aware of the talent I have. The recruiting process was definitely something fairly new to me at the time, but I loved going through it with their staff.
TRL: Did you receive interest from any other schools? If so, what made you choose TCU? 
CB: As one of the top recruits in my class, I received interest from a large number of schools, but there were a handful of schools I actually initiated communication with. My top three schools were TCU, OU, and Gonzaga and I love all of them. What set TCU a part from them were a few factors. One of them being location. It's super close to home, easy to get to, and in Fort Worth where there's tons of things to do in the area. I love their staff and the players, and then there's kind of this gut feeling when I first visited campus that I didn't feel on any other visits, and I just knew that's where I wanted to be.
TRL: How have your high school coaches prepared you for TCU? 
CB: Between both Jason Nicholson and Ryan Mitchell and the rest of the staff, they've done a great job of preparing me both for volleyball and college life. Both coaches have a ton of volleyball background which they've shared with me, and they're both just great people who will love you on and off the court. 
TRL: Why do you play volleyball? 
CB: Despite the fact that I grew up in a gym, I've always been a competitor and I'm pretty when I was younger I would always want to do what my big sister Shanel did. So if I saw her playing I would want to play. If I saw her winning things…I wanted to win. Eventually, that became part of the reason why I'm so competitive today, and the rush that comes from the big games and exciting points is something that has never left me. So no matter how damaged my body is at times, getting a little more of that feeling is always worth it. When I'm on the court showing off, that's when I'm in my element and people can see it.
TRL: What are your plans for college?
CB: I'm graduating early after this fall semester and hopefully will be able to attend TCU right away. When I get there I might want to major in interior design. If that doesn't workout out, I'm interested in the ranching industry, certain animal care jobs, and any other field where I can use my artsy/creative side.
TRL: How has volleyball impacted your life? 
CB: Volleyball is my whole life. My whole childhood was made around it and now my future is set up because of the opportunities it's brought me. I've met so many great coaches and I hope that I can take everything they've taught me and share it with the other great players I'm surrounded by.
Leave a Comment
About the Writer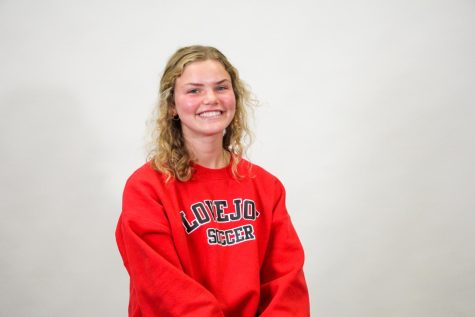 Margo Friloux, Section Editor
Entering her final year on staff, Margo is excited to work with her Co-Sports Editor and Leopard Life alum, Will Doig. This year is bittersweet to Friloux....