Featured Athlete: Allie Johnson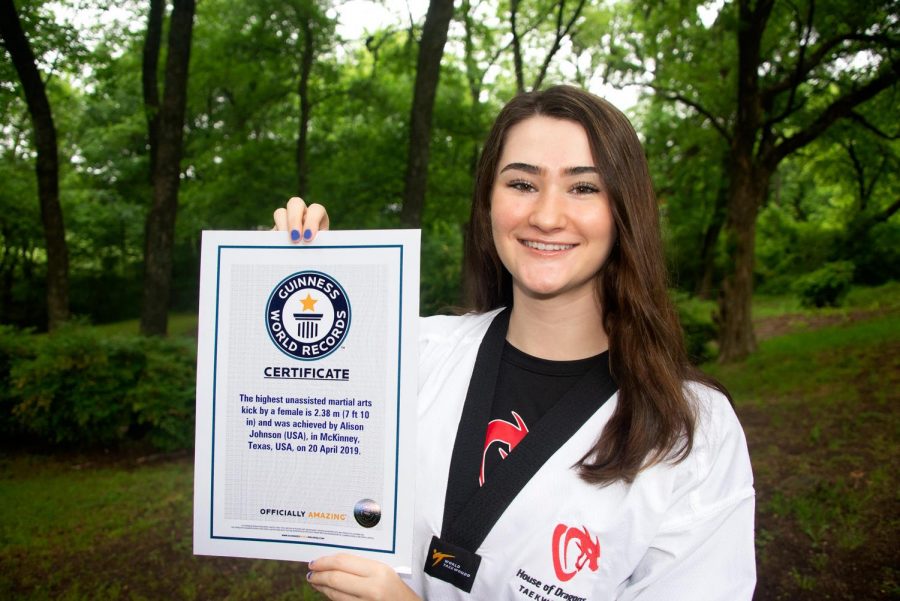 On April 20, 2019, junior Alison Johnson broke the world record for the highest female martial arts kick in the world. When she is not doing martial arts, she enjoys skateboarding and watching Netflix.
Pre-Game
Favorite color: Gold
Pets: Two cats, Ninja and Rosie and one dog, Jules
Fun fact: She loves to scuba dive.
Favorite quarantine activity: Sleeping
Post-Game
The Red Ledger: When did you start martial arts? 
Alison Johnson: I started taekwondo when I was nine, but I specifically started competing in jumping high kick when I was twelve.
TRL: What inspired you to start doing taekwondo? 
AJ: My dad knew the owner and head instructor of the school, House of Dragons Taekwondo, and I was looking for a new sport to try. I tried it, and loved it and just kept getting more and more into it. I tried more things within taekwondo, like sparring and jump high kick and weapons. It started to become my favorite thing to do. It came to me really naturally, so it made it easier to advance really quickly and do well in competitions, but the sport itself is really technical and challenging which to me is really fun. 
TRL: Is your sport a club sport? How is your sport different when working with a team? 
AJ: I would say taekwondo is a club sport, because we work as hard as any other team or group of athletes would. I am on a taekwondo team, so we all train together. The only thing that differs from a normal sport is the fact that I go against my teammates rather than work with them in practice. My teammates help me improve by training and fighting with me so we can cheer each other on later and individually accomplish our goals. 
TRL: If you were to explain to someone the basics of taekwondo, what would you say? 
AJ: Martial arts is really all about giving people the confidence to not only be able to throw kicks and punches but to also be able to defend themselves. There are a ton of different events but specifically, with the jumping high kick, which is what I have the world record for, you can go up against any number of people since it is a process of elimination. The goal is to run a marked distance and jump up and kick aboard. As long as your feet are the only thing that touches the ground and you break the board, your attempt is counted as complete. The person who lasts the longest without having an incomplete attempt wins. 
TRL: Do you train every day?
AJ: At one point I would train five to six times a week for several hours a day, but that was when I would compete a lot more often. I still train four times a week with a normal schedule, which we obviously don't have right now due to the lockdown, but I mainly focus on teaching others taekwondo.
TRL: How do you manage school, training and competing? 
AJ: It has been very difficult to manage school, training, and competing because I have a really heavy workload with the classes that I am taking, and it usually causes me to have about four hours of homework at night. I have a lot of late nights because of school and sometimes have to sacrifice training because of my homework load, so I will do it in between the classes I teach. Competing also requires a lot of traveling, so I sometimes have to miss school to travel. It's been very difficult overall, but I think I've finally gotten into a routine of managing my time and workload while still getting the maximum amount of training.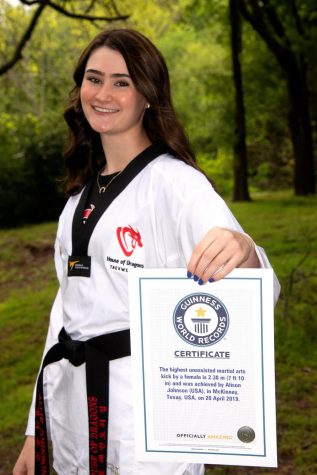 TRL: What does a normal practice look like and how do you mentally prepare before a competition?
AJ: I'm practicing year-round, so there are no seasons or breaks that I get. A normal practice includes a lot of warming up and stretching because it's really easy to pull a muscle or get injured in a full-contact sport. Then, depending on what type of class I'm in, I work on a bunch of different stuff. I don't really have a specific routine for mentally preparing for a tournament. I'm normally coaching other people at the tournaments I compete at, so that takes my mind off my nerves. If I'm not coaching, I'll talk to people to try and calm myself down, or I'll listen to music and watch other events and cheer on teammates.
TRL: Who are some people you look up to or aspire to be like in your sport?
AJ: I really look up to my instructor, Master Chris Adamson because not only is he great at taekwondo, he is also a really good person with the same values and morals as me. He always has my best interests in mind and he encourages me to reach my full potential while still enjoying the sport. I also really look up to the Olympians who represented the U.S. in taekwondo like Stephen Lambdin and Jackie Galloway because of their dedication to the sport and their many accomplishments. 
TRL: Where do you see yourself going with your sport?
AJ: I see myself continuing to teach and train for the rest of high school, but I am hoping to attend an out-of-state college once I graduate high school, so I'm not exactly sure how I am going to pursue taekwondo then. I know my first-choice college, the United States Naval Academy, has a taekwondo club, so I am really considering joining that team to continue training and meeting others who also enjoy taekwondo. No matter what happens after high school though, I will always love taekwondo and appreciate all of the amazing opportunities it has given me. 
TRL: How did you become the highest female martial art kicker in the world? 
AJ: When I first started practicing jumping high kick, we looked up the current world record to compare my progress with who was officially the best in the world, and I had already matched the height, so I continued to train and compete. Once I got to the point where I could easily reach a taller height than the record, we brought a video camera to one of my tournaments to video my attempt. Once I broke the record and  got the video evidence, we had to get witness statements from the people officiating the tournament. We then had to get the attempt verified by Guinness World Records, because the way I broke the record was not exactly the same as the way the previous record was broken. It was a long process but it was worth it in the end when I saw my name as the current record holder.
TRL: How did this make you feel? 
AJ: When I broke the board and realized I had finally officially broken the record, I felt a lot of pride because I had finally accomplished my goal of being the best in the world. When I saw my name as the current record holder for the highest martial arts kick by a female on the Guinness World Records website, I was really surprised because they didn't tell me when they had updated the title, but I felt the same sense of pride and appreciation as when I actually broke the board, only with a little more surprise this time. 
TRL: What are some of the quality traits that martial arts have taught you that you have been able to apply in your everyday life? 
AJ: Taekwondo has taught me the value of perseverance and dedication while giving me the confidence to pursue my goals and dreams. It has also taught me to not accept failure and to learn from my mistakes, but be grateful for the experience and proud of others' accomplishments. It has also taught me to have pride in my family and team and to support those who also support you. Overall, I wouldn't trade my experiences in taekwondo, positive or negative, for the world.
About the Writer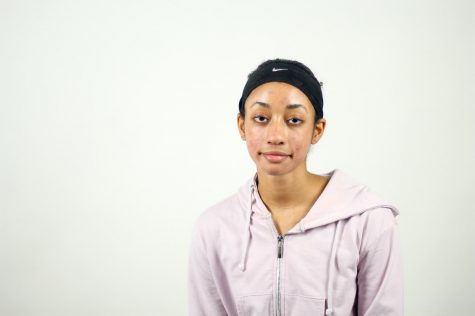 Lauren Gardner, Staff Writer
Lauren Gardner, a senior, dreamer, logophile, and artist, strongly believes in the importance of pursuing one's passions and evolving fully into who you...