Featured Athlete: Jared Langs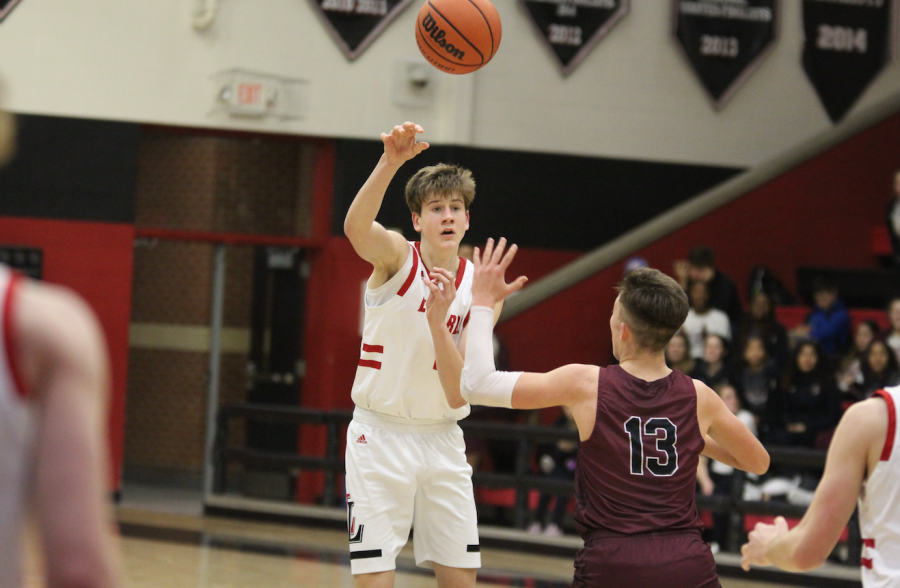 Jared Langs is a senior basketball player. Next year Jared will play basketball at Wesleyan University in Middletown, Connecticut.
Pre Game
Least favorite offseason workout: Syracuses
Favorite pregame song: Living on a Prayer
Position: Power Forward
Years of experience: Since 3rd grade
Years on varsity: Two years
Favorite flavor of Gatorade: Light blue
Favorite pregame meal: Chick Fil A
Favorite sport besides basketball: Volleyball
Go to 3-point celebration: Run down and play defense
Post Game
The Red Ledger: What was your biggest accomplishment as a Lovejoy athlete?
Jared Langs: I have the school record for most points and [the record for] most rebounds in a game (38 points and 21 rebounds at Denison). I also tied the three point record (six three points). For a team accomplishment though, I guess just winning our playoff round last year.
TRL: What are you most looking forward to about playing basketball at Wesleyan?
JL: It's just another four years to play. I enjoy playing basketball so it's just another opportunity.
TRL: How have your coaches at Lovejoy prepared you for your future at Wesleyan?
JL: They've obviously helped me with my basketball game and in the off-season we have leadership council. I've learned a bunch of valuable lessons on how to be a good leader and teammate and how to encourage my teammates to do good. [For example], being more vocal. I'm not a huge vocal person, so I think over the years I've gotten more vocal with actual  encouragement [for] my teammates.
TRL: How has being a part of a team for so long changed you as a person?
JL: You learn team lessons, you can't always do it by yourself. Being able to like rely on others and they rely on you, you have each other's back, it's an important lesson to be able to have in life.
TRL: Have you ever played sports besides basketball?
JL: Growing up I played everything. I played baseball, soccer and football, and obviously basketball. But once middle school started, I played soccer still and basketball because I wasn't really good at the other sports. Basketball I always loved, and I was probably the best at it out of the four and so I continued with it. I've also played a little bit of volleyball for fun.
TRL: What injuries have you had throughout your Lovejoy career and how has that impacted the player you are now?
JL: In seventh grade, when I started playing basketball [for the school], I had open heart surgery the summer going into it. That really impacted me because it's a pretty serious thing. Through the school, they did heart screenings,. They actually detected [the heart abnormality] through that over the summer. Then I had to go to a follow up appointment at a cardiologist and the ECG (electrocardiogram) said that I had a heart abnormality and I had to go get a follow up appointment. They detected that I had a hole in my heart. It's called ASD (atrial septal defect) and it's a hole in between the upper two chambers. They had to go in cover the hole and then a couple weeks later at my follow up appointment they actually had to go back again because fluid collected around my heart and it needed to be drained. I [also] broke my thumb the spring of last year, my junior year, but that the season was already over. That just kind of hindered my off season. Then, I twisted my ankle at  the beginning of the season and missed a game but nothing too bad.
TRL: What was your senior project?
JL: I raised awareness for undiagnosed heart problems and then encouraged my fellow athletes at Lovejoy to go get the screening done because a lot of these issues are asymptomatic, so they don't have any symptoms. You see and hear the stories about athletes that die from cardiac arrest on the field, or their heart stops beating. And so that's why it's super important to get these ECG. because it can detect that and prevent it.
TRL: Describe the process you  took in which you selected Wesleyan.
JL: I went to a couple camps over the summer and that's where they first noticed me. We just got in touch and then I was able to visit over fall break, I was able learn more about the school and more about their program. I got to take a visit and I really liked the guys, the team and the coach and the campus is nice so I just decided.
TRL:  What do you think your legacy is a Lovejoy athlete is?
JL: I hope someone you know [as a] hard worker and responsible. I hope to be someone that was a good person that has good character. You know you can always rely on them.
About the Photographer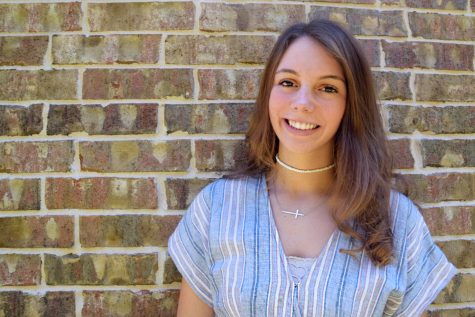 Katie Dolberry, Section Editor
Heading into her second year on staff, senior Katie Dolberry is excited to take on the role of sports editor and photographer. She would like to pursue...