Boys soccer reflects on close loss at McKinney North
The boys soccer team (9-3-3, 4-1) lost on Tuesday in an away district game to the McKinney North Bulldogs (7-6-4, 3-2). The final score of the game was 1-2 with Lovejoy's only goal scored by junior Cade Novicke. 
Head coach Alex Duran acknowledged McKinney North's team emphasizing the effects of even a few mistakes against  a good team.
"When you play against a good team a few mistakes will hurt you," Duran said. "That is what occurred last night. It serves as a reminder and a lesson that I know will serve us well in the long run."
Junior goalie Sammy Merrick said he was unhappy with the way the game was reffed and that one of the calls cost them the game.
"I was most disappointed with the amount of fouls we gave up," Merrick said. "The entire game we just kept fouling and unfortunately the ref called more for them then us and one of the fouls cost us the game."
Sophomore forward Abhi Rajaiyan said that the team gets "hungrier" when facing a better team.
"Being winless against McKinney North in the past two years didn't really change our mentality and mindset going into the game," Rajaiyan. "Looking back at our game on Tuesday night I really thought that we came into the game with lots of hunger and energy. Playing against McKinney North Tuesday night was a game that everyone was hyped up for and it did change how we played. We came up with more intensity, more energy and more hunger to redeem ourselves for the last two years."
Duran said he is not worried about the future competition and eventually having to go up against McKinney North later in the season.
 "The boys fought and we knew it would come down to the wire," Duran said. "We are still in first place [despite] the loss [with] the second round of district starting next week. We went 4-1 the first round and if we do the same [during the second round] we will be just fine."
Rajaiyan hopes to improve offensively as a team so they can come out and prove their worth the next time they play against a good team.
"Things that we can do to improve how we play against teams like McKinney North is to be moving the ball from the defense to the midfield and out wide to our wingers so that we can try and get crosses and opportunities to put the ball in the back of the net," Rajaiyan said.
The Leopards' next game will be Tuesday at 7 p.m. against Wyllie East.
Leave a Comment
About the Writer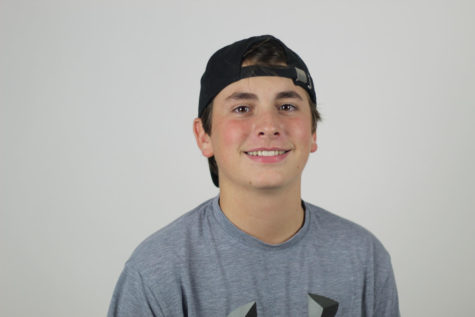 Drew Gager, Staff Writer
During his first year with The Red Ledger, sophomore Drew Gager will contribute as a staff writer. His hobbies include golfing and playing video games....