Boys basketball to start district play at Sherman
After a 46-19 win over Midlothian heritage on Monday, the Leopards will look to kick off their district season as they play the Sherman Bearcats (4-13) in Sherman on Friday, Jan 19 at 7:30 p.m. 
Senior Jared Langs led the Leopards in scoring with a double-double. He had 15 points and 10 rebounds. Junior Mitchell Weaver and sophomore Pete Peabody followed with eight points each. Senior Harper Pool had six rebounds. Not to mention, the Leopard's defense was only one point away from tying the school record for points allowed in a game which is set at 18.
 "It was a great team win," junior Josh Kirkland said. "Everybody got a chance to contribute. It gave everybody a lot of confidence going into district."
Through the first 22 games of the season, the boys basketball team has gone 10-12, including placing third overall in the Great East Texas Shootout. 
"I think we struggled early on in the start of the year [because] we had so many new players that I don't think that everybody knew what their role was," Head Coach Kyle Herrema said. "I think you always want to set the tone, and it's kind of like with your classes, you don't want to start out by getting a failing grade on that test and have to play catch up. You would rather get an A. I think it's the same kind of premise, you just want to get off to a great start."
On Saturday, Jan 11, the team lost 67-61 to St Mark's. Herrema said he was impressed with the physicality with which his team played and  that the team was not intimidated going into that game. St. Marks' Harrison Ingram has offers to play at 21 schools including Memphis, Baylor and Kansas. Ingram had 16 points and 16 rebounds, and he is only a junior. 
"I think our guys really responded well," Herrema said."  "They took a scouting report and executed it really well. It shows us that we can do some damage, not only in district, but it also shows that when the playoffs come. We're gonna be ready to roll."
With many of the team's pre-district losses being close games, Kirkland has learned not to take the score for granted. 
"A lot of our losses are by one, two, three points, and it just shows that [we should] never get complacent with the score," Kirkland said. "You go up by 10, sometimes we feel ourselves getting complacent, and then we let the other team come back. This time we just need to hammer it out, and don't let up."
About the Photographer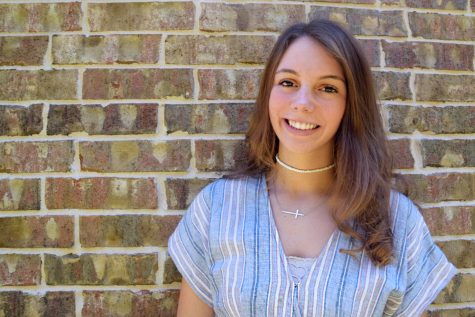 Katie Dolberry, Section Editor
Heading into her second year on staff, senior Katie Dolberry is excited to take on the role of sports editor and photographer. She would like to pursue...