Track and field sends nine athletes to state meet
Nine athletes from the boys and girls track and field teams will be traveling down to Austin this Friday to compete at the UIL 5A state meet.
"This year is an exceptional year because we have athletes competing in a field event, a distance event, a sprint, and a relay," boys head coach Tim Denton said. "We're sending [nine] athletes to the State meet and [six] of them are seniors. We've established a four-year program and we continue to push our athletes all four years."
Senior Alaina Pierce will start the morning off by competing in the high jump at 8 a.m. It will be her first and last time to compete at the state meet.
"I've been preparing mentally for this since the end of my junior season, where I barely missed making it to state by placing third," Pierce said. "I've been dedicating more time and effort to the sport this year. My mindset at the moment is that it's my last time to compete, so I'm just going to give it my all and see what I can do."
After placing sixth in the 1600m at last year's state meet, junior Will Muirhead will make a reappearance in a different event, the 3200m, this time around.
"I didn't expect to go back to state in the way that it happened," Muirhead said. "I was planning on making it in the 1600 and not in the 3200, but the opposite happened. I'm obviously hoping to place better than I did last year, even though it's in a different event. I'm not going to be disappointed with anything, but I'm still hoping to place top three."
Muirhead highlighted experience as a big factor going into this weekend.
"Since last season, I've gained more confidence," Muirhead said. "Last season, I wasn't really expecting to make it to state. I had no idea what I was doing, but this year, having been there before will make a difference on how I race."
Senior Jahi Rainey holds the school records for both shot put (56'6") and discus (171'11"), but failed to qualify for discus after finishing third at regionals.
"I expected to qualify for both [discus and shot put]," Rainey said. "Going into [regionals], I was first in discus, but I had a bit of a rough day. I got in my own head and it showed in that meet. So the next day, I went and did shot put and I was just going for it. It was my last opportunity to go to state and it was something I really wanted."
Rainey has competed in AAU and USA National Meets for shot put and discus, but has never been to a State Meet before.
"A lot of people would say Nationals [is more prestigious], but I would say that state is," Rainey said. "This is my first time going. It's something that I've been preparing for for a really long time. It's a big deal, but at the same time it's just about not getting in my own head. At this point, the only person that's stopping me is me."
The 4×200 relay team, composed of seniors Jake Chamberlin, Ryan Gordon, Beau Iovinelli and sophomore Hunter Smith, is one of the last events of the day at 7:45 p.m.
"After last year's regional meet we knew we would have a chance to compete at the state meet with our relay teams," Denton said. "We had a great group of guys returning for their senior year and a few younger runners that would increase the depth of our team. This group has improved each time they've run together at the area and region meets. We found the right group and it's a fun group to work with each day."
Gordon and Rainey have both committed to The University of Arkansas for track and field.
"[Placing at state] would mean everything to me," Rainey said. " It would just top off this whole year. I was fortunate enough to get a track and field scholarship to Arkansas, so that was a big deal. But to go out there and win state, it would prove that I wasn't anything short of their expectations."
Leave a Comment
About the Contributor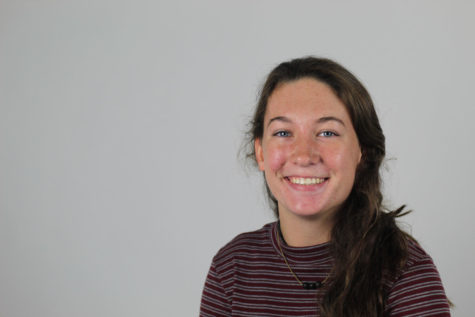 Alexis Russell, Staff Writer
Alexis Russell is a senior this year, and it is her second year on staff. She mostly writes about sports, including volleyball, basketball, and baseball....