Track and field to send 16 competitors to regionals
More than half of the track and field athletes that competed at the area meet (April 3-4) have qualified for the regional meet that will take place April 26-27 at Maverick Stadium in Arlington.
"The top two finishers in each event at the regional meets plus one additional qualifier will qualify for the State meet," head boys coach Tim Denton said. "We have 12 athletes competing in the Region II-5A meet with 16 total chances to get to the State meet. It's always fun to watch our athletes compete for that chance each year."
The boys team had four first place finishes in the area meet (junior Will Muirhead in the 1800 and 3200, and senior Jahi Rainey in shot put and discus) and won first in the 4x200m relay. However, the boys team fell just short of first place overall (137 points), finishing just eight points behind McKinney North (145).
Overall, there were twelve area qualifiers from the boys team and four from the girl's team, which finished 6th overall with 54 points. Senior Alaina Pierce qualified for Regionals in the high jump (2nd, 5-05) and long jump (2nd, 17-11).
"Breaking the long jump and high jump school records has been quite rewarding and really pushes me to continue putting in hard work for the good outcomes," Pierce said. "Ending the season I am hoping that going to state is a possibility for high jump, which I will find out this Friday if I make it past regionals."
Senior Ryan Gordon, a University of Arkansas signee, qualified for Regionals in the 100m (2nd place, 1.64 ), the 200m (2nd place, 21.58 ) and the 4x200m relay (1st, 1:27.29).
"When I became the head track and field coach here at Lovejoy, one of the goals we set was to add a great group of sprinters to compete for a District Championship each year," Denton said. "Ryan was a freshman and we saw really quickly that he had the speed and explosiveness to become one of our best sprinters. He now holds four of our school records…the 100m, 200m, 4x200m, and 60m."
Gordon is still looking to improve on his approach going into the meet.
"I'm just focusing on executing my strategy for my open events," Gordon said. "I have not yet run a perfect race this year, and I am not satisfied with how I have run any of them. I usually have a bad start but a great finish and have been working to fix my drive phase out of the blocks."
The 4x200m relay (comprised of Hunter Smith, Jake Chamberlain, Beau Iovinelli, and Gordon) is the top seed going into the Regionals.
"All of us guys don't think we have peaked yet, and we've just got to bring our best for those two days," Gordon said. "We have raced all the teams there before and have beat them all at least once, so we should have good confidence going in and just get the baton around the track."
Leave a Comment
About the Writer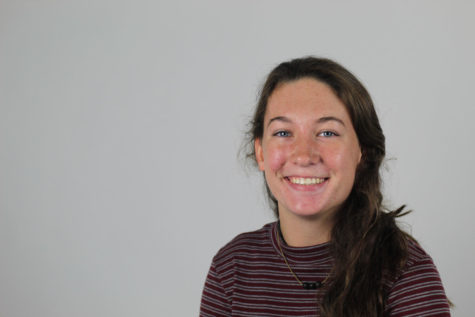 Alexis Russell, Staff Writer
Alexis Russell is a senior this year, and it is her second year on staff. She mostly writes about sports, including volleyball, basketball, and baseball....