Girls basketball to face Frisco Lone Star in first round of playoffs
Editor's note: The headline for this story previously stated the team would fact McKinney North. The headline has been corrected to state that Girls Basketball will face Frisco Lone Star. The Red Ledger regrets the error.
After a tough loss to McKinney North in its final district game, the girl's basketball team is set to take on Frisco Lone Star in the first round of the playoffs at 7 p.m. at McKinney High School.
Lone Star has won nine out of its last ten games and will look to keep up the momentum against the Leopards.
Head coach Lance Boxell said the team is focusing on limiting Lone Star's leading scorer, senior forward Adryana Quezada, who averages 16 points and seven rebounds per game.
"They are an athletic team that is led by their post player Adryana Quezada," Boxell said. "We have been working on defensive schemes to limit her as much as possible."
Despite losing a large senior class last year, the Leopards reached their goal of making the playoffs.
"Our goal this season was to make the postseason," Boxell said. "I am proud of what we have accomplished and am looking forward to the challenge we have in front of us in playing one of the top teams in the area."
In last Tuesday's heartbreaker 50-48 loss to North, the game was close the entire way, as the Leopards led by two at halftime. A few clutch buckets down the stretch by McKinney North sealed the deal and gave the Bulldogs the win.
Junior Carsen McFadden led the team in scoring and rebounds with 18 points and 11 boards, recording a double-double. Junior guard Grace Bennett and senior forward Alexandra Brungardt each pitched in nine points.
A win against Lone Star would advance the Leopards to the area round of the playoffs, where they would face off against the winner of Samuell and Turner High School.
Leave a Comment
About the Writer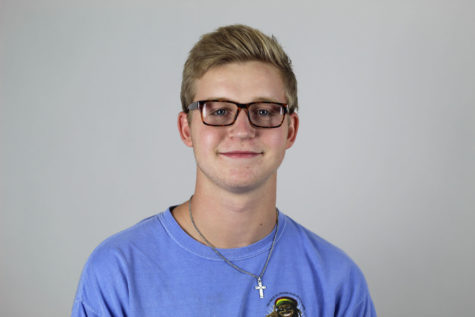 Drew Doig, Staff Writer
Entering his fourth and final year on The Red Ledger staff, senior Drew Doig will continue to be a sports writer. Drew, or "Doig" as he's more commonly...