Volleyball seeks to protect eight-game winning streak
After completing a district-wide sweep (5-0 with no dropped sets), the volleyball team (34-8) heads into the second round of district play hoping to keep its eight-game win streak alive. The Leopards will face off versus the Class 4A Decatur Eagles (27-9) in a non-district match to be hosted at Advantage Sports Complex at 6:30 p.m.
"Motivation is a key piece," head coach Jason Nicholson said. "The girls have been fantastic about keeping high energy and understanding how to take care of our side of the net and keep pushing. Any of these matches could have been close, but our girls really fought to not let that happen and not to lower our level of play."
In their first matchup on Aug. 17, the Leopards came out on top over the Eagles, winning set one by a score of 25-16 and set two by a score of 25-22.
"They're a good team, and probably one of the front-runners for state at the 4A level," Nicholson said. "We're looking to maintain some competition. There's something to be said about taking a night off, with it being a bye week with the holiday weekend. We want to maintain our routine and pattern. We're hoping to get a good, competitive match out of them, but we're going to have to be ready."
The team has statistically dominated in each one of its five district games so far, offensively and defensively, never allowing its opponent more than 16 points per set. This year's squad is also currently averaging 13.1 kills per set, more than any other team in the program's history.
Senior Michelle Foster provides an insight into the team's mental strategy going into the second round.
"We know what each team has to bring now that we have played every team in district," Foster said. "Even though it is not as competitive as we would like, we need to focus on the big picture of the season and just keep our heads in the right mindset so that we don't drop a set the rest of district."
Foster explained the significance of the team's "Countdown to State" poster in the locker room.
"The poster is a reminder that we only have so many games left of the season and that we need to work as hard as we can this next month or so to make sure that we accomplish our major goal," Foster said. "It serves as motivation to show us that we can win the a 5A state championship if we put our minds to it and if we give 100% percent every time we step on the court."
Leave a Comment
About the Writer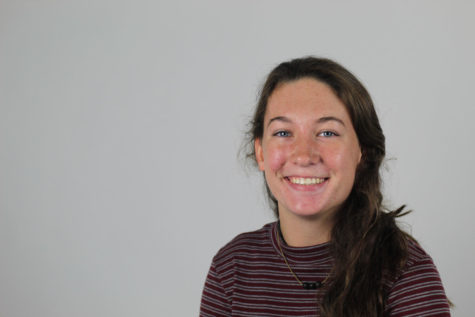 Alexis Russell, Staff Writer
Alexis Russell is a senior this year, and it is her second year on staff. She mostly writes about sports, including volleyball, basketball, and baseball....