Football to face Lebanon Trail in road matchup
Currently riding a three-game winning streak to start the season, the football team (3-0 overall, 2-0 district) will make the 16 mile bus ride to Frisco ISD Memorial Stadium to take on Lebanon Trail(1-4, 0-3) tonight at 7 p.m.
Head coach Todd Ford expressed desire for his team to build on the foundation of the first three games.
"I would really like to continue to push this football team into consistency," Ford said. "You take a group of teenagers and they start doing what you want them to do, the challenge then is to take the next step, which is to be consistent."
The Leopards will face a Lebanon Trail team that has struggled with consistency during a four-game losing streak. The Trail Blazers have failed to limit opposing offenses to fewer than 40 points over the course of their past three games.
Senior wide receiver Jacob Terwilliger, who was on the receiving end of two touchdowns in last week's 48-17 win over Denton Braswell, predicted that the Lebanon Trail defense will attempt to neutralize the Leopard passing game.
"We noticed [on film] that defensively, they aren't as physical as some of the other opponents we have faced," Terwilliger said. "They are really going to try and stop the passing game more than the running game."
Last week, the Trail Blazers found themselves on the wrong end of Frisco Memorial's first win in program history. However, Lebanon Trail did manage to put 40 points on the board, thanks in large part to a 194-yard performance by junior wide receiver Keaton Belew.
Ford explained that screen passes are an integral component to the Lebanon Trail offense.
"They're possibly going to run more screens than we have seen all year," Ford said. "Twenty percent of their plays are some type of screen. We've got to line up correctly. These guys are going to give us a lot of formations and motions."
Junior defensive tackle Tyler Beidleman said the Leopard defense will have to keep up with the tempo of the Trail Blazers' offense.
"They are a very fast paced team, and they want to get plays off as fast as they can," Beidleman said. "We need to just make sure that we are aware [of the tempo]."
Last week, the Leopard defense forced four Denton Braswell turnovers, three of which came from the forced fumble variety. Offensively, the Leopards did not yield a turnover and were led by senior Jahi Rainey, as the tailback was credited for 134 rushing yards and two touchdowns.
Ford attributed the Leopards' success in the turnover margin to following its "core principles."
"Play fast, play physical, play smart, and protect the stinking ball," Ford said. "It's the old adage, [the turnover battle] is the number one indicator in winning and losing games."
Leave a Comment
About the Writer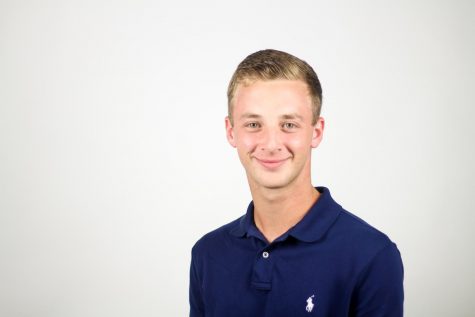 Benjamin Nopper, Section Editor
After joining staff and becoming an editor his sophomore year, Benjamin Nopper is enthusiastic to spend his senior year in the newsroom he considers...