Football to host Denton Braswell in home opener
Three hundred and twenty-two days have elapsed since the last time the football team (2-0 overall, 1-0 district) took the field in a regular season game at Leopard Stadium, but the long drought will finally end as the Leopards will host the Denton Braswell Bengals (1-3, 1-0) tonight at 7 p.m. The festivities of Leopard Friday will also add to the significance of the home opener.
As the Leopards have already sat through a rain out in week two, a near two-hour delay in week three and a bye in week four, head coach Todd Ford said he has high expectations for the home opener.
"I expect the energy level to be really high, and I will be disappointed if it's not," Ford said. "We all really enjoy competition, and thus, when it's game day, we ought to be on cloud nine."
The aforementioned competition the Leopards will face consists of a Denton Braswell team that dropped its first three non-district games. However, the Bengals defense forced four turnovers and held first-year program Frisco Memorial to negative rushing yards in a 43-0 victory in last week's district opener.
Senior quarterback Carson Collins described the Bengals defense as athletic but potentially susceptible to the passing game.
"They are the most athletic team we have seen so far," Collins said. "They play a seven-man box most of the time to stop the run, and they play a loose man coverage over the top, which we can attack with the pass game."
On the offensive side of the ball, Denton Braswell also offers some unique looks, senior defensive back Chase Coronado said.
"We see some good athletes [on film] for sure and a lot of funky formations and motioning," Coronado said. "However with all of that being said, our defense has had two weeks to prepare for them, so we are very excited to get after these guys."
The team took care of business two weeks ago against Frisco Memorial after the power went out in the area, forcing a prolonged delay during the first quarter. The Leopards didn't look back even after the delay and held on for a 74-13 victory.
Collins registered 301 passing yards and three touchdowns in the winning effort, and sophomore running back James Boyd gathered 110 rushing yards and three touchdowns in the absence of fellow tailback Jahi Rainey (illness).
"I was very pleased with how maturely they handled the situation," Ford said. "We knew there was a chance this [rain] could happen, and as a result we went right into plan B, and we made the best of it."
Leave a Comment
About the Writer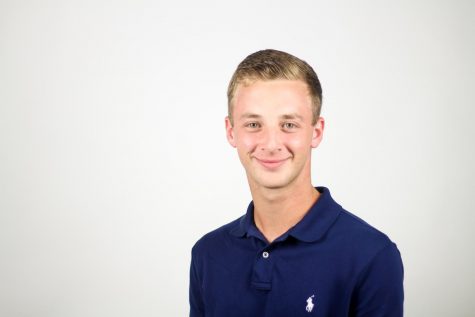 Benjamin Nopper, Section Editor
After joining staff and becoming an editor his sophomore year, Benjamin Nopper is enthusiastic to spend his senior year in the newsroom he considers...