Volleyball to host Argyle in home opener
The volleyball team (27-7) is 34 games into the season, but has not yet been given the chance to defend its home court. Tomorrow night at 5:30 p.m, the Leopards will get to do just that, as they face the Argyle Eagles (14-14) in their home debut.
"The girls are extremely excited to finally get an opportunity to play on our home floor in front of their friends, fans, and family," head coach Jason Nicholson said. "Argyle is a very good team that competes at the 4A state tournament almost every season, so they're going to bring their A game. Hopefully, we can go out and get a win."
After a tough five-set loss to Prosper last week, the Leopards were able to come out with a 3-1 win versus McKinney Boyd on Tuesday night.
"Neither one of [the teams] probably played at the level we have been playing at for the last couple of weeks," Nicholson said. "But, a win is a win and we'll take it. We had a run with Hebron, Prosper, and McKinney Boyd. If we go 2-1, I'll take it."
Senior Emma White emphasized how important it was for the team to get a win under its belt before heading into Friday's game.
"Beating [McKinney] Boyd was a big deal to us not only because they are a good team, but because in past years varsity has struggled to beat them during preseason," White said. "The win was a big confidence boost to our team after a tough loss to Prosper, and it makes the statement that this season is going to be a special one."
After the match versus Argyle, the Leopards will have their last non-district regular season game of the year versus the Martin Warriors (20-7) next Friday at 6:30 p.m. in Arlington. The Leopards' district season will then begin on Tuesday, Sept. 18 as they travel to take on the Wylie East Raiders (8-11) at 6:30 p.m.
"It can get kind of boring, for lack of a better term, as we get into district play," Nicholson said. "I think a lot of it is going to come not just from what we're doing from a game management standpoint, but what we're doing in the gym practicing. We have to compete against each other."
In order for the level of competition to remain high during the district season, White said it is crucial for the team to stay focused and competitive during practice.
"When we are doing any drills against each other, we say '0-0' as if we are taking score, whether we actually do or don't," White said. "It's kind of a joke we started last year, but in all seriousness, it keeps the competitive spirit and intensity high between each other."
Leave a Comment
About the Writer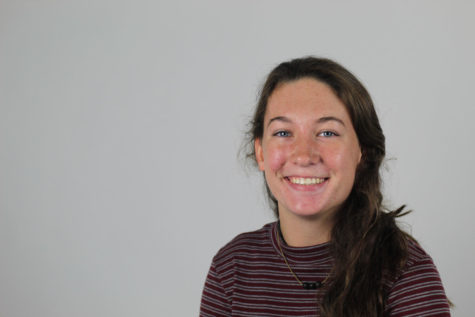 Alexis Russell, Staff Writer
Alexis Russell is a senior this year, and it is her second year on staff. She mostly writes about sports, including volleyball, basketball, and baseball....