Volleyball aims to continue momentum in final tournament
The volleyball team will travel to Austin to play its last tournament of the regular season in attempts to sustain its number one state ranking this weekend.
The Lady Leopards have played 21 matches thus far, going 17-4 against some of the top teams in the state, including Hebron, the defending 6A state champions, #6 ranked Aledo, and #11 ranked Coppell, in both 5A and 6A divisions
"We really haven't had a lot of time to practice so far this season," head coach Jason Nicholson said. "When we have [practiced], we've been so tired that we really haven't been as productive. After we get back from this tournament, we'll get back on our regular schedule and get our heads on straight and get in our routine."
Senior defensive specialist Michelle Foster said she is confident her team can build off of its recent momentum going into the tournament.
"This is a hard tournament and none of the teams we play will be easy," Foster said. "After winning big matches last week, we know what we are capable of doing and we hope that we continue to beat teams that are bigger and better than us because of the way we play."
The team has eight seniors on the roster this year, but a significant amount of young players as well.
"We have a great group of seniors," Nicholson said. "It's the largest group of seniors I've had since I've been here. They offer a lot of elements and play all different positions. They all have strengths that can hopefully help us bring on some of these young kids that we have added into the mix and continue having a good season."
The Leopards finished third out of 60 teams in the Northwest ISD tournament that took place August 13-18. Freshman setter Averi Carlson was voted most valuable setter of the tournament as well as DFW Varsity Volleyball Player of the Week during week two of the season.
"Even though a majority of the team is young and new to the team, we have really good team chemistry for the season just beginning," Foster said. "We have big goals this season and we plan to make a run for state and hopefully win the whole thing. We have a good chance to do it if we just play our game."
Year after year, the expectation for the volleyball team has been centered around one thing: state. And according to Nicholson, it is no different this year.
"The expectations are always the same with Lovejoy: figure out how to get to the state tournament," Nicholson said. "Whether we have the talent to get to the state tournament is irrelevant. It's whether we can play consistently. We've got the talent, and we just got to make sure we can play at a high level when crunch time comes."
Leave a Comment
About the Writer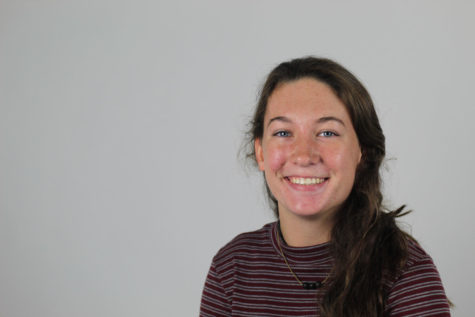 Alexis Russell, Staff Writer
Alexis Russell is a senior this year, and it is her second year on staff. She mostly writes about sports, including volleyball, basketball, and baseball....