Football set to begin spring season today
Although the year seems to be winding down for the majority of the school's sports, today marks what is analogous to the first day of school for the football team– the first spring workout, which means the team is authorized to practice in full pads.
Head coach Todd Ford said that he and his coaching staff see the entire spring program as an evaluation for the players.
"Every day in our program is an evaluation, from how [the players] sit in a position meeting to how they respond to coaching in practice," Ford said. "They know that this is a multi-faceted thing, and when we play under the Friday night lights, it's a big responsibility to be a Lovejoy Leopard."
Ford said that "60 to 75 percent" of his roster will be decided after spring ball but also noted that there are still spots up for grabs.
"Everything we do will have discipline attached to it and will be an evaluation," Ford said. "Therefore, we're going to know about 60 to 75 percent of that roster, but the other [percentage], we're going to continue to evaluate and see who wants to earn those remaining spots."
The Leopards, who were considered by many to be a young team last year, will be led by a deep senior class during the spring and during the regular season in the fall.
Rising senior defensive back Chase Coronado said that the aforementioned senior class is ready to lead after growing closer together over the offseason.
"I expect to be a leader along with a handful of seniors," Coronado said. "This offseason brought us all closer together."
Rising senior tailback Jahi Rainey said that he also expects to be a senior leader for the Leopards. He also noted that leadership roles are not exclusively for seniors.
"I think I'll have a major leadership role along with [other seniors]," Rainey said. "I wouldn't say you have to be a senior to lead others, but if you can influence the people around you to [be] better and work as a team, then you are a leader."
While spring football is always an exciting time of the year for players and coaches, this year in particular is unique because of the recent remodeling of the locker room and indoor facility. Though the facility will not be ready for the players until August 1, Ford compared the feeling of experiencing the new facility to waking up on Christmas morning.
"[The players] don't know exactly what the new facility is going to be like just yet because it's really under some bigtime construction right now," Ford said. "I think it's going to be very similar to waking up on Christmas morning, and you kind of don't know what it's going to be yet."
Coronado is among one of the several players who are eagerly awaiting the new facilities.
"We are super excited to have a new locker room for our last year," Coronado said. "There is a lot of hype around it, so we are ready."
Leave a Comment
About the Writer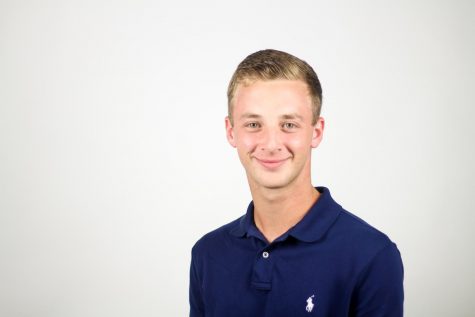 Benjamin Nopper, Section Editor
After joining staff and becoming an editor his sophomore year, Benjamin Nopper is enthusiastic to spend his senior year in the newsroom he considers...