Leopard Look: Katherine Heath
Hang on for a minute...we're trying to find some more stories you might like.
Katherine Heath is a sophomore who has been wrestling since the sixth grade. This year, she won district runner-up at the UIL Region III wrestling tournament.
At a Glance:
Favorite Movie: "Home Alone"
Favorite Artist: Thomas Rhett
Favorite Class: Chemistry
Least Favorite Food: Sushi
Favorite Disney Princess: Ariel
Role Model: My mom
Looking Deeper:
The Red Ledger: Why do you enjoy wrestling?
Katherine Heath: I just have a passion for the sport, and it's really fun to do. Competing is my favorite part–being with your team and competing to show off all your hard work.
TRL: What got you into wrestling?
KH: I did Muay Thai [kickboxing] when I was little, and then my brother started to do wrestling, and we've always been fans of UFC and all those sports that use wrestling in a way.
TRL: How many hours a week do you put into wrestling?
KH: Seventeen and a half hours, not including tournaments.
TRL: Have you received any awards or titles?
KH: I have received many medals at tournaments, and the only titles I have right now are state champion in eighth grade, second in state in seventh grade, most improved wrestler as a freshman, and district runner up this year.
TRL: Are you planning to wrestle in college?
KH: Yes. I would love to get a scholarship for wrestling.
TRL: What college would you like to go to?
KH: I haven't decided quite yet. Currently, I'm looking for a college that offers wrestling and pre-law, and that's very hard to find.
TRL: What else are you involved in at school?
KH: I run track, I was in FCA, and now I'm in Young Life.
TRL: What do you love about wrestling?
KH: I love my coach and my team. We've been together since I was in sixth grade. They just bring a lot of joy and happiness, and we always have a good time. Most of all, I love the thrill of competing and winning. Wrestling is my greatest passion.

About the Writer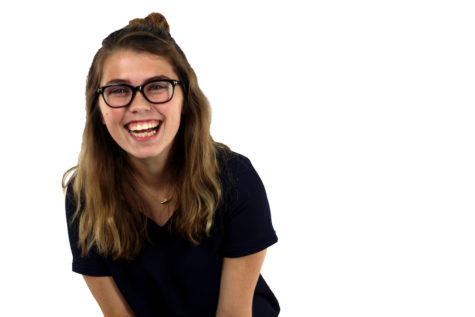 Katie Bardwell, TRL Reporter
Katie Bardwell is a senior, and this is her first year on The Red Ledger staff. She is excited to finally test out the waters of journalism. Katie has always had a passion for writing and all forms of art, and one can often find her in the art rooms or the choir room. Katie taught herself how to play the guitar and plays the piano by ear. She loves music, no matter the genre (except for yodelling). If there is a concert in the area, she's probably there singing (or screaming) along to the artist on stage. She also enjoys "finding a deeper meaning" in everything in the world. Maybe it's because she has watched "Good Will Hunting" one too many times. Katie plans on majoring in architecture and interior design. Her choice in majors may or may not have to do with her HGTV network obsession. Katie is passionate about writing for The Red Ledger this year, and she loves getting along with her fellow staffers.