Featured Athlete: James Vaughn
Junior James Vaughn is the swim team captain and helps train his team mates.
At a Glance: 
Favorite TV Show: Friends
Favorite Swimming Stroke: Butterfly
Least Favorite Holiday: Halloween
Favorite Class: Art
Favorite Fast Food Restaurant: Whataburger
Favorite Color: Blue
Looking Deeper: 
The Red Ledger: When did you start swimming?
James Vaughn: I started swimming in about seventh grade when I joined the middle school team.
TRL: How long have you been swimming competitively?
JV:  I started club swimming in eighth grade when I joined Texas Ford Aquatic in Frisco. I was doing middle school swim in the morning and club in the evening, and I've been swimming club ever since.
TRL: What has it been like competing for the school and being as successful as you've been?
JV: It has been super fun swimming for the past three years of my high school career, and I have to thank my successes on Coach Franks for pushing me through things I didn't think I could do.
TRL: What is it like being one of the leaders of the team?
JV: Being a leader on the team, you have all the underclassmen looking up to you, and it's a lot of responsibility. It's fun to be a captain by leading cheers and cheering on my teammates while they are swimming. I get to watch freshmen who are nervous become more comfortable and become a member of the swim family.
TRL: Do you have any goals for swimming in the future?
JV: One of my goals in swimming is to get a D-1 scholarship to swim in college and hopefully make it to the Olympics after that. As for this year, I hope to be able to win state in my 100 butterfly.
TRL: What is preparing for meets and competitions like, especially as you prepare for the playoff meets?
JV: Swimming at districts, regionals and state have a lot more pressure than regular meets because you have to swim smart at those meets, and you can't be as risky as you could be at regular meets.
TRL: What's your favorite part about being on the swim team?
JV: My favorite part about the swim team would be training with my teammates and watch them develop and grow as an athlete. My training partner Jed Jones who recently moved from Minnesota pushes me both at club practice and high school practice which is also one of my favorite parts because we are always trying to one up each other in the pool and not let the other person beat us in any aspect of swimming.
Leave a Comment
About the Writer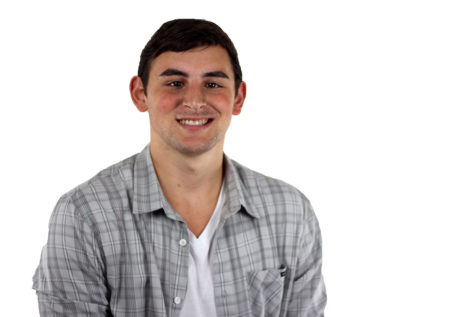 Caleb Stein, TRL Reporter
Caleb Stein, now in his senior year of high school, is excited to be coming back to The Red Ledger staff for his second year. While many things have changed...