A perfect record
Senior ensemble performs each year together with high hopes
This is their fourth year, the opportunity to create a perfect record. They began as unacquainted freshmen. They will graduate as unlikely friends.
Seniors Meredith Ehlmann, Leslie LaTour, Lauren Bradshaw, Katrina Leslie, and Roni Hansen formed orchestra ensembles together each year of their high school experience, consisting of two violins, a viola, a cello, and a bass. From January to May, the group spends a few hours a week together perfecting a musical piece.
Judges gave them a one, the highest rating, for all of their competitions so far. They performed at the high school for the regional competition in February and will advance to the state competition in Austin this May.
The first year they performed together, orchestra director Joey Sloan put the five freshmen together. Ehlmann said they barely knew each other compared to their relationships today. By sophomore year, each group member was accepted into the chamber orchestra.
"I was not friends with any of them, and now I'm very close to all of them," Ehlmann said. "We really understand each other. When you play with people, you really have to vibe with them. We all connect really well and work really well together. We all have the same mentality."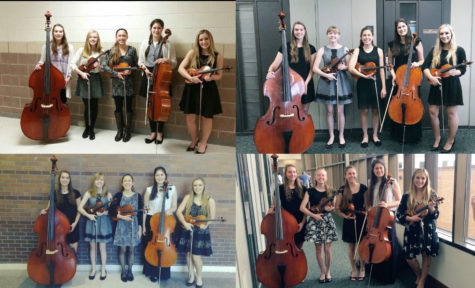 The quintet grew in their abilities together through the years. Freshman year, the group played a grade two-piece, so even though they received the highest rating, they did not qualify for the state competition. A rating of one on a grade one piece is required to compete at the state level–a combination the ensemble achieved as sophomores, juniors and now seniors.
"We learned a lot of communication with each other," LaTour said. "When we first started playing, it was a little hard because we didn't want to hurt each other's feelings. But I think just Mr. Sloan and everyone working together to help each other has really helped us get better."
LaTour said she often feels pressure to perfect the piece as the performance date approaches, but Bradshaw's calm demeanor and sense of humor brings her comfort.
"I think last year I was so stressed I started crying during one point because I was afraid we were going to get a two at state, and [Lauren] just helped us calm down," LaTour said. "It gets stressful."
In four years, these unlikely friends grew from just knowing each others' names to cherishing their annual collaboration.
"I don't even want to think about other people in [our ensemble]," LaTour said. "We all really help each other."
About the Contributor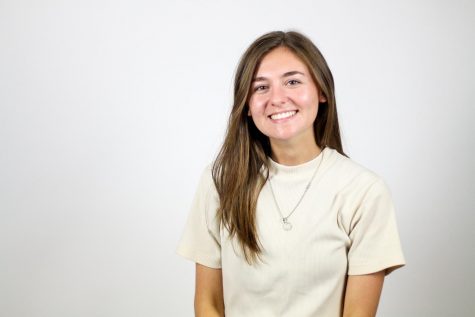 Lily Hager, Editor-In-Chief
With the coming of her fourth and final year of high school, Lily Hager eagerly awaits the senior perks that accompany all who suffer from "senioritis"–including...