Battle for first
Team to face Wylie East in fight for number one seed in district
The girls basketball team (24-6, 9-1) hosts district foe Wylie East (23-4, 9-1) in a game with major playoff significance on Friday night at 7 p.m.
Wylie East is currently on a six-game winning streak with the only loss coming against Lovejoy earlier in district play. East is led by guards Maegan Lee, Mary Nyakundi, and forward A'Kasha Davis. The trio has combined for an average of 30 points per game this year.
With playoff implications on the line, this game will determine both the Pirates' and Leopards' postseason pushes.
"It is a big game because whoever wins the game will take sole possession of first place in district with only three games left to play," head coach Lance Boxell said.
The team is focusing on many aspects of its game this week in preparation for Wylie East, including parts of its defensive gameplan.
"In order for us to win the game, we will have to win the rebounding battle," Boxell said. "We must limit them to one shot by team rebounding in our zone. We are also working on our zone defense by getting to the perimeter shooters."
Senior guard Taylor Meixelsperger said that Wylie East will serve as a challenging opponent.
"In order to beat them, we need to play with confidence because we are the better team when we believe that," Meixelsperger said.
Furthermore, the team is working on some plays on the offensive end of the floor once it breaks Wylie East's full court pressure.
"Our team has been putting a lot of effort in practice and we have specifically been focusing and working on coming off dribble handoffs aggressively on the offensive end of the floor," senior guard Kaylee Rekieta said.
Last Tuesday, the team defeated Forney 68-48. The Leopards got off to a fast start, extending their lead to 12 in the first quarter. The team went on to win 68-48 to earn their ninth win of district play.
"We did a great job in our press early on in the game to open up a big lead," Boxell said. "We went into halftime up 45-19."
Rekieta finished the game with 17 points, and Meixelsperger and senior guard Kim Lyne combined for 24 points to help the team secure the win. Sophomore Carsen McFadden filled up the stat sheet with seven points, 17 rebounds, five steals, and four assists. McFadden set the school record for rebounds in a game, eclipsing the previous mark set in 2016.
After the Wylie East game, the team will go on the road to face North Forney on Tuesday night.
About the Contributor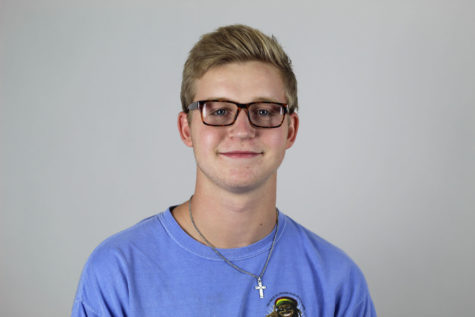 Drew Doig, Staff Writer
Entering his fourth and final year on The Red Ledger staff, senior Drew Doig will continue to be a sports writer. Drew, or "Doig" as he's more commonly...