The clash of the clubs
They were born together, grew up together, and for their whole lives went toe to toe in academics, athletics, and day to day life. Inspired by the spark of friendly competition between them, the senior Purcell twins clash with their new clubs on campus. Autumn created the Finer Things Club, and Grace the Hammock Club. Both clubs combined have about 69 members in total.
The clubs appeal to a wide variety of students involved, though unlike the Hammock Club, the Finer Things Club is a more exclusive group that requires an application.
"I saw the episode of 'The Office' featuring the Finer Things Club and thought the club would be the perfect way to connect with friends and even strangers who share a mutual appreciation for the 'finer things in life,'" Autumn said.
Different from the Finer Things Club, the Hammock Club is much larger and does not require an application. The club is supposed to be a way of getting a group of people together to relax and have fun.
"I started this club because I love hammocking but never liked going by myself. I knew there are a lot of people who love hammocking at Lovejoy, so I started the club," Grace said. "I also started it because hammocking has always been really relaxing to me, and I know school is super stressful, so going to Hammock Club is a way to relax and take time for yourself during your busy schedule."
The Hammock Club, staying true to their laid-back nature, does not require you to go to any of the meetings.
"We have been to Celebration Park for the majority of the meetings, but I want to start going to some other parks and adventurous places, as well," Grace said. "Also in the club, we listen to music, play games, and even have holiday-themed snacks and drinks."
The comfortable and relaxed style of Hammock Club is greatly contrasted by the more formal themes of the Finer Things Club.
"Each club meeting has a theme, like 'English tea party' or 'Southern style,' and the food, conversation, clothing, and even our accents are centered around that theme," Autumn said. "During the 'English tea party' meeting, we discussed the essential aspects of English culture such as tea and Harry Potter in terribly amazing English accents. In the 'Southern style' meeting, we discussed much of our own joys and pastimes like our favorite movies and books because, having lived in Texas for either the majority of or all our lives, 'Southern' culture is essentially just our own, though we did try out some pretty outrageous Southern accents."
The two clubs have started a playful rivalry between the sisters. Though both are a part of each other's clubs, they still have the belief that their respective club is superior to the other.
"I created my club first, and then she copied me by starting her own club," Grace said. "My club is really chill and flexible, while her club requires people to dress up and show up to every meeting. My club is just a fun place to be. There are no qualifications for being a member. Autumn's club has qualifications, and we are not super exclusive."
With contrasting ideas of who created their club first, Autumn playfully described why she believes that her club is the best.
"I created my club first. You could honestly say my twin is simply riding the coattails of my success. What can I say, I guess I just inspire her," Autumn said. "Despite the aura of exclusivity the club gives off, everyone is welcome to join. The application is simply used as a 'get to know you' tool as well as a way to weed out those who aren't that serious about joining the club. Through our small club, we have created a close friendship and society."
Despite the banter, the sisters are proud of the work they have done.
"I'm very happy with what we've been able to do," Grace said. "I think by creating these clubs, we have been able to connect with people we would never have talked to. I'm happy we've been given the opportunity to bring people together, whether it's for the love of hammocks or for the finer things in life."
About the Writer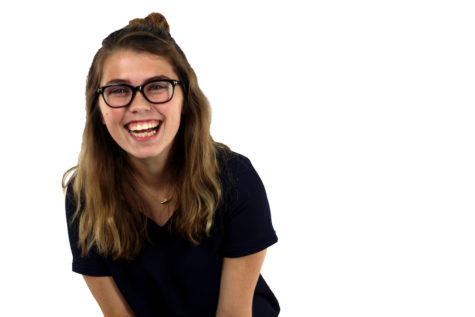 Katie Bardwell, TRL Reporter
Katie Bardwell is a senior, and this is her first year on The Red Ledger staff. She is excited to finally test out the waters of journalism. Katie has...