Football to face Forney in pivotal homecoming game
Team hopes to make a playoff push after slow start
Hang on for a minute...we're trying to find some more stories you might like.
Fresh off of last week's bye, the football team (0-5, 0-2 district) will host the Forney Jackrabbits (2-3, 1-1) with early-season playoff aspirations already on the line. The homecoming matchup will be held at Leopard Stadium at 7:30 p.m. on Friday night.
The team recognizes that every game is of the utmost importance over the remainder of the season, and offensive line coach Dustin Gunter said the team needs to win at least four of the next five games to get into the playoff hunt.
"That's our goal," Gunter said. "We're racing to win four games right now, and we know that will put us in the playoffs."
The Leopards faced some challenging opponents through the first five weeks of the season, as their five opponents (Argyle, Wakeland, Lone Star, Highland Park, and West Mesquite) have combined for an overall record of 22-3. However, things appear to be a little bit more favorable for the Leopards to make a run later in the season, as the remaining opponents on the schedule have a combined record of 13-12 up to this point in this season.
Gunter explained the importance of the team executing and playing its game, regardless of the strength of the opposition.
"You can't take any opponents lightly, but the [remaining opponents] are not as strong of opponents as we've played so far this year," Gunter said.
The Leopards will take on a Forney team with plenty of experience playing in close games, as all five of the Jackrabbits' contests have been decided by two possessions or fewer. Forney is also coming off a bye week, as the last time the team took the field was on Sept. 29 in a 30-27 victory over Royse City. The Jackrabbits were reluctant to pass the ball, as quarterback Devon Rideaux attempted just nine passes. However, Rideaux tallied 160 yards on the ground to complement four total touchdowns on the night.
From a defensive standpoint, the Leopards will look to prepare for an offensive system that frequently features the quarterback as a rusher.
"Forney is a run-heavy team, and they rely heavily on their quarterback to make plays," sophomore defensive lineman Tyler Beidleman said. "If our defense can stop their run game and make them throw, then we will be successful."
In last year's 35-21 victory over Forney, the Leopards took advantage of Forney's nine penalties and cashed in for five touchdowns on just 226 total yards. Senior wide receiver Chase Van Wagoner led the attack for the Leopards, as he registered three receiving touchdowns to supplement a special teams touchdown on the opening kickoff.
Senior running back Nick Garcia said that the the team can be successful against Forney again this year by playing a complete game as a unit.
"I think what made us successful last year against Forney was that we minimized the mistakes and played well as a team in all units," Garcia said. "If we can execute as a team and take advantage of our talent and skill and play together through all four quarters, then we will see the same result [as last year]."
Garcia said the team is motivated to redeem itself from last year's homecoming loss against the West Mesquite Wranglers, who overcame a 31 point deficit in the second half.
"We all know what happened last year, and we aren't going to repeat that, so that definitely motivates us to not let that happen again," Garcia said. "If we play like what we are capable of playing like, then the sky's the limit on how far a run we can make."
About the Writer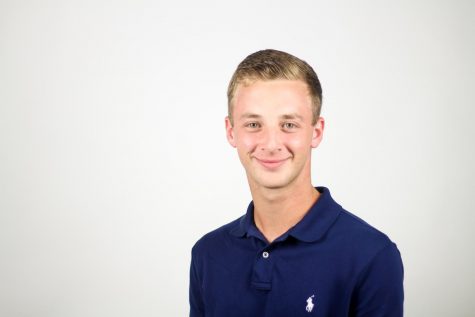 Benjamin Nopper, Section Editor
After joining staff and becoming an editor his sophomore year, Benjamin Nopper is enthusiastic to spend his senior year in the newsroom he considers...