After Dark ministry to host conference in Allen
Hang on for a minute...we're trying to find some more stories you might like.
For the first time After Dark is reaching high school students by bringing rappers and performance to the Allen High School Performing Arts Center on Sunday, Feb. 26. Main tickets are sold out, but overflow tickets are still selling online for five dollars.
The ministry, which began in 2000, travels to colleges around the country and has reached over half a million college students. A typical performance features a well-known rapper, a few musicians, and a speaker.
Allen After Dark will feature Joe White, KB, Corey Kent White, and Cory, Cody, and Coby from Dude Perfect. All students are encouraged to come.
"The target is to not only just Christian kids, because we still want to build them up and encourage them," Lovejoy parent Karen Shackelford said. "But it's for kids who have never stepped foot in a church and never gone to a youth group."
Some students have heard about After Dark and plan to attend with their friends.
"Hopefully with this event, anyone who is interested in the Christian faith will come and experience some of what the Christian faith is," senior Garrett Martin said. "The event is so massively important to get anyone and everyone to see God's glory. I would ask anyone from my best friend or to a stranger I met at work to come to this. I have invited over 10 people to this event."
College students have attended After Dark for free, but Shackelford said she felt called to bring the ministry to Allen, and she had to raise money to bring them to their first high school event.
"There is a disconnect [between teenagers and the church] that is new," Shackelford said. "There's more suicides. There's something going on. As I kept praying, the Lord really put the word 'revival' on my heart, and it would not leave me. I was thinking, 'There needs to be something to rally kids together.'"
After days of searching, Shackelford was recommended to reach out to After Dark. She said the program was what she was looking for to minister to students.
"What I was thinking about was something where kids would literally have an encounter with God in their own space and in their own way somehow," Shackelford said. "To where it wasn't religion, it wasn't because Mommy and Daddy, it wasn't because 'I want to be a good little girl.' It was purely a relationship with the Creator. Many kids have never even thought of that."
Since the program had never reached a high school audience, Shackelford said she had to raise $40,000. She reached out to several women including another Lovejoy mom, Laurie Lafon.
"What's neat about this is it's not sponsored by a church," Lafon said. "It's a community-wide event. We brainstormed the churches within a 10-mile radius and met with the youth pastors to see if we could get them fired up. One by one we took these guys to lunch and meet with them the best we can and start to see a momentum build with them. We now have 45 youth pastors from different churches. That's so cool."
She, Laurie and six other women, along with a "Mom-fia" facebook page with 300 followers collaborated to raise money through a taco dinner and prayer meetings.
"It was a huge step of faith," Lafon said. "We didn't even have a dollar."
Lafon said the moms are praying for a "radical change" in the students and wants to make sure to follow up with students .
"There are people, adults, that care about you, that have devoted their lives [to teens] like the youth pastors to be there to walk beside you whatever stuff you're dealing with," Lafon said.
There will be a follow up event in November lead by a 19-year-old who started his own non-profit organization. It can be found on Twitter by the name #HowToLife Movement.
"Our idea is to not let it be just a one night event," Lafon said. "But to get [students] plugged in and connected in whatever step they are in their journey."
About the Writer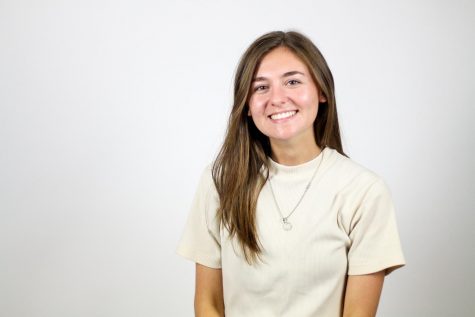 Lily Hager, Editor-In-Chief
With the coming of her fourth and final year of high school, Lily Hager eagerly awaits the senior perks that accompany all who suffer from "senioritis"–including...