National Signing Day: Two athletes make their choices
In accordance with National Signing Day, seniors Cal Cranfill and Haley Deschenes joined hundreds of athletes around the nation as they formally signed on to compete for their future university. Cranfill, the boys soccer captain, signed with Trinity University, while Deschenes, who helped the volleyball team to a state semifinal appearance in the fall, signed with the University of Central Oklahoma.
"I'm really excited right now and can't wait to be down in San Antonio playing for Trinity," Cranfill said. "Trinity has a really good soccer program and I established a solid relationship with the coaches so it felt like the place for me."
Cranfill has played on the varsity soccer team since his sophomore year. During his time as a varsity Leopard, Cranfill has played under head coach Alex Duran, who had praise for his actions on and off the pitch.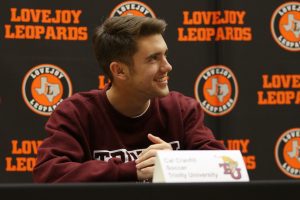 "For me, I want my players to be good people and Cal kind of exemplifies that as he's great with his teammates and his coaches," Duran said. "So yes he does help us out on the field, but I love the fact that he's just as good a person and the fact that he has all the qualities he does, he's going to be very successful."
Deschenes has played in the state tournament in each of her three years on varsity, taking home the championship in her sophomore year. This year she was announced as a first team all-district 15-5A outside hitter.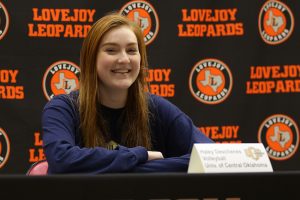 "I verbally committed in November to Central Oklahoma so it's really exciting to finally make it official," Deschenes said. "They had shown interest in me after a tournament I competed in and after some research, I decided it sounded like a good fit for me. I went for a visit and instantly fell in love with the area and I even got to play with the team."
In her last two seasons as a Leopard, Deschenes has accumulated 714 kills and a .281 hitting percentage and head coach Jason Nicholson said it's been a joy to watch her develop as a player.
"Haley is phenomenal and has helped us out a lot in key situations over the years," Nicholson said. "It's been great to see what she's become over the years since first seeing her walk through these doors as a scrawny little freshman. Haley is a great kid and she'll do wonders at Central Oklahoma, where I wouldn't be surprised if she started in her first year."
Leave a Comment