Conquering the bar and the field
Senior Mason Massey has found not one, but two passions: gymnastics and football
From the football turf during 6 a.m. practices, to the gymnastics gym during 9 p.m. sessions, senior Mason Massey strives to be his best in both his football and gymnastics training.
Massey has been involved in gymnastics for years and recently joined the football team this past season.
"My parents put me in [gymnastics] when I was really young," Mason said. "I kept with it because I enjoy it, and it keeps me in shape."
Mason's younger brother, sophomore Mitchell Massey said his older brother has always been a gifted gymnast, and wanted him to try football because of his strong athletic abilities.
"Everyone in my family has done gymnastics at least once, but Mason was always keen on it," Mitchell said. "Gymnastics has always been a passion of Mason's. I knew he would never quit that. Mason's very athletic so I eventually convinced him to just try [football]."
Mason had always wanted to try out football, and decided to go for it in his last year of high school.
"Over the summer I decided to kind of stop wishing and start doing," Mason said.
Since becoming involved in both gymnastics and football, Mason has found that his gymnastics training has contributed to him becoming a better football player despite the sports' differences
"It has helped me prepare for football by being strong and in shape, because if I was as short as I am and not as athletic, I would've struggled a lot in football," Mason said.
Inside receiver coach Tyler Wicke explained how Mason's balance and center of gravity have given him opportunities to grow and become a better football player.
"
The work ethic with him is outstanding
— Inside receiver coach Tyler Wicke
"He does have superior balance," Wicke said. "You can tell as the way he moves around that stuff that would knock a lot of people off balance, he has a little bit better center of gravity and balance than you'd see on the normal person. He has better control of his body and that allows him to do more things, and pick up things quicker."
Mason's two sports, though fulfilling, have added a sense of stress to his everyday schedule.
"[Dropping out of my extracurriculars] has probably crossed my mind once or twice, but I don't know what I would do with my free time," Mason said.
Wicke said he admires Mason's constant support, good attitude, and energy despite his other tiring activities.
"He brings a lot of positive energy around him all the time and he's always flying around practice and helping us, no matter what we need," Wicke said. "He has a great attitude all the time and gives great effort. He's learned a lot. He just started with us over the summer so his growth and knowing what to do and how to do it has been great."
Mason's chaotic schedule has taught him how to stay motivated and occupied throughout his day.
"One thing that I've noticed [about always being busy is that] it keeps you out of trouble," Mason said. "When you're always busy, you don't have as many opportunities to go out and make bad decisions."
Wicke also explained that Mason's energy and work ethic from gymnastics has helped him tremendously in football.
"The work ethic with him is outstanding," Wicke said. "It has to be with as much time as he's spent training, doing other things, he's learned how to work hard throughout his life in other areas and he's carried that over to football with him."
Despite joining football his senior year and dealing with two completely different sports, Mason has continued to grow and excel.
"Effort can cover up for a lot of mistakes," Wicke said. "You don't have to necessarily know what you're doing all the time, but putting forth great effort, it's a skill in itself. That's something Mason definitely has."
Leave a Comment
About the Writer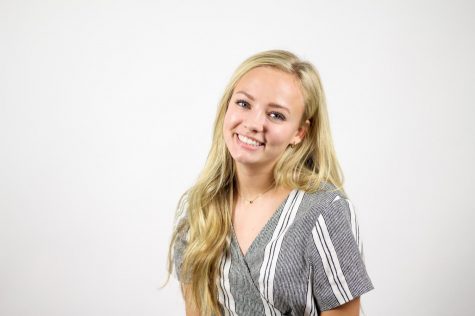 Lulu Butler, Section Editor
Continuing into her fourth year on staff, senior Lulu Butler serves as TRL's Managing and A+E Editor, and she is eager to start another amazing year...