'Conquerors of the useless'
Students participate in rock climbing for exercise and enjoyment
Hang on for a minute...we're trying to find some more stories you might like.
For junior Catherine Stewart, having exercise-induced asthma made finding a sport to be passionate about almost impossible. However, when her brother introduced her to rock climbing, she quickly gained a new hobby.
"I can't really run, and so a lot of sports that involve running or off campus I can't really do," Stewart said. "I really liked [rock climbing] because it's a sport which requires skill, but it's also really enjoyable, and you can mark your accomplishments."
Learning how to climb allowed Stewart to have adventures she wouldn't have been able to have otherwise.
"Just this last summer we went to Colorado, and we found an entire wall of bolted routes," Stewart said. "So we were climbing on top of this mountain, and you [could] see this beautiful view."
Stewart has spent hours climbing with her brother ever since she first tried the sport with him in the summer of 2014.
"[I go] whenever my brother and I can go together because I do lead climbing, so you have to have someone actually holding the rope so you don't die," Stewart said.
Stewart said she plans on climbing off-campus for athletic credit senior year because junior year is "really busy."
Fellow rock climber, senior John Stallings, also has to juggle schoolwork with climbing.
"[I need to] balance an hour driving distance there and back and climbing for three or four hours three days a week just because I'm taking three dual credit classes," Stallings said. "An obstacle has been time management for me which is something I've never been good at."
Stallings discovered he one day wanted to climb outdoors when his cousin took him climbing in a gym about a year ago. He works hours in the gym into his busy schedule to develop skills needed to safely climb in natural settings.
"It's a challenge, and it's really fun," Stallings said. "I always liked climbing things."
Stallings said climbers are often called "conquerors of the useless" because once climbers reach the peak, there's nothing to do except climb down.
"It's the only thing you're focused on while you're doing it, and it's really refreshing," Stallings said.
Sophomore Parker Nolan used rock climbing to turn one of his fears into a hobby in the two months that he has been practicing.
"I've always had a fear of heights, and it was a way to overcome it," Nolan said.
Nolan said he goes to the gym once or twice a week and is in awe of what occurs there.
"The little kids on the team there who have been doing it for years can climb stuff way harder than [what I] can [climb] and just drop down like it's nothing," Nolan said.
Climbing has different meanings and effects to each climber, but the activity is mentally beneficial as well as physically challenging.
"There's not really an end goal," Stallings said. "It's more of the activity of climbing. It's kind of meditative."
About the Writer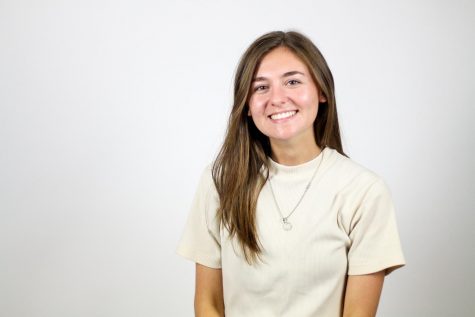 Lily Hager, Editor-In-Chief
With the coming of her fourth and final year of high school, Lily Hager eagerly awaits the senior perks that accompany all who suffer from "senioritis"–including...