Serving those who served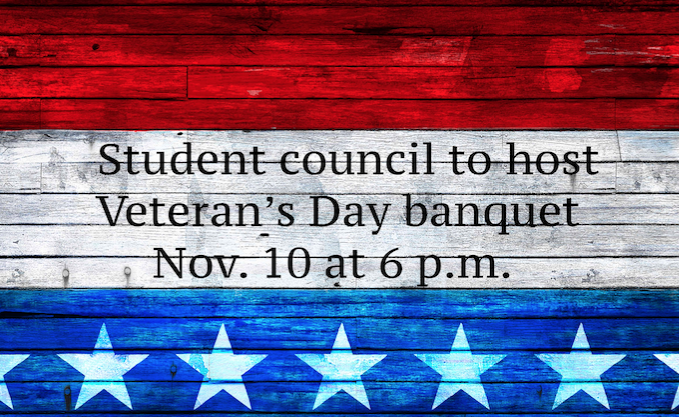 For a person who risked it all.
For someone who gave all they had.
For someone who selflessly served a nation.
For someone like a veteran, a banquet serves more than food.
The Veterans Day banquet has warmed the hearts of those who served in the armed forces ever since senior Student Council president Ellie Hager proposed the idea two years ago.
"Until two years ago, we didn't really reach out to veterans in a way that we would see them face-to-face," Hager said. "So this is a way for us to get to know the veterans in our community hopefully for years to come."
The banquet is now led by senior Brandon Merrill, Student Council treasurer and chairman of the pride and patriotism committee. This year's banquet will be on Thursday, Nov. 10 at 6 p.m. The banquet is open to all veterans, and they can RSVP to Brandon Merrill at [email protected]
Student Council members have reached out to Heritage Ranch, American Legion, local Veterans of Foreign Wars, and We Defy, an organization with which junior council members Dayton Thompson and Andrew Grissom work to rehabilitate paraplegic veterans. From these organizations, the Student Council hopes to reach not only guests to honor, but to have veterans share their stories.
"We're going to have them speak to the audience about what they do as a veteran in a support organization," Merrill said. "We're just personally inviting as many groups as possible locally to get the word out."
The first year, there was a schedule mishap out of the control of the Student Council, so the turnout was "very small." However, last year had about 50 people in attendance, and 75 people are expected to come this year.
"I think this year is going to be even bigger and better," student council sponsor Theresa Dollinger said. "We've learned who to reach out to and how to reach out to those people."
While 75 people are estimated to attend, the number could fluctuate, and this makes planning difficult.
"I think our biggest trouble so far is trying to estimate how many people are going to come," Merrill said. "Because we've had to get a quote for the catering order, so we've had to look at the last years to see how many more people we are inspecting."
All purchases must be approved in advance through the school store. Last year, Student Council forgot to order desserts, but the heart of the banquet was not lost.
"We not only personally thank them, but we get to know them and sit down and talk to them," Hager said. "And that has been, according to their family members, the highlight of their year for a lot of them."
Last year, Hager came up with the idea to have younger students make thank you cards for the veterans.
"We have younger kids from Willow Springs, Sloan Creek, and the elementary schools make appreciation cards that are on the tables so that [veterans] can read the cards," Dollinger said. "Those were a big hit last year. It was really cute, especially with the younger kids."
The audience ranges between ages and experience, but the similarities between all of the veterans create a community in the commons.
"We have older, older veterans who can tell us stories about Vietnam," Dollinger said. "But we also have younger ones who have started coming that have been overseas recently."
Dollinger said the veterans love seeing the students run the banquet, and they get joy out of talking to the students and seeing the high school appreciate them.
"They just love getting out and seeing the kids," Dollinger said. "They love talking to the kids. They love telling them stories. They also have a little bit of a sense of community just by talking to other veterans who are in the area, too."
About the Writer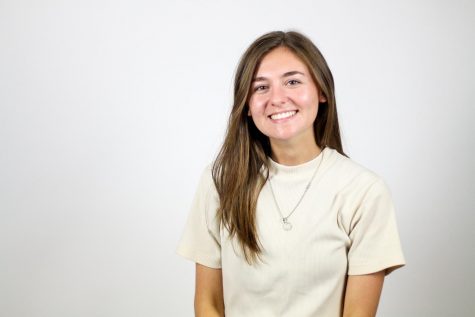 Lily Hager, Editor-In-Chief
With the coming of her fourth and final year of high school, Lily Hager eagerly awaits the senior perks that accompany all who suffer from "senioritis"–including...