A different kind of inspiration
Seventh grader Reed White brings motivation to football players
The football team found a new inspiration this year in their "number one fan," seventh grader Reed White. To many of the football players, he is more than just a fan.
"We consider him a teammate," junior Malachi Al-zurachi said. "That's what we see him as. Football is like a family, and he's part of the family."
Reed was diagnosed with Duchenne muscular dystrophy, a condition in which the muscles progressively weaken, at the age of 1.
"Every year since then is a little different with things that happen with him that affect his muscles," Reed's mother Misty White said. "First it affected his walking. He was probably about 10 years old when he ended up getting a wheelchair. But he's happy. Always a happy boy."
Al-zurachi said the team is motivated by seeing Reed on the sidelines.
"When he's going through what he has to go through on a daily basis, as a team, we look to that just to stay positive, no matter what," Al-zurachi said.
Reed relies on "the power of positive thinking," a motto his aunt adopted, to help him face challenges.
"When he goes to the doctor or he has to get shots or when we have to lift him, he gets very nervous and scared," Misty said. "He always has to have the power of positive thinking that he's not going to get hurt and that everything is going to be OK."
Last year, Reed made a connection to the football team through his friend, sophomore Jake Chamberlain.
"I started going to his house and just hanging with him," Chamberlain said. "Then we got [assistant football coach Tim] Denton involved and he helped schedule him going out to the field with the team."
Denton reached out to Reed and his mother about joining the team.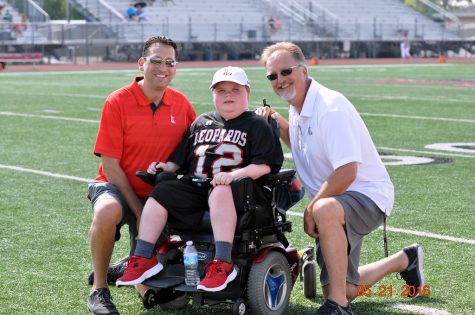 "His mom told me he's always liked football, and he followed the team when he was little and became a fan," Denton said. "He wanted to meet these guys and they welcomed him in. He loves every second of it."
Initially Reed joined the football team as an honorary coach for last year's spring scrimmage.
"He wanted to do something in the spring with the football team," Denton said. "We got him a jersey and got him involved."
The coaches decided to expand Reed's role with the team this fall.
"The first game he was a little shy, and he didn't know what to do with the tunnel," Denton said. "He wanted to stay in the back, but the kids talked him into going to the front."
Reed has developed a strong relationship with the coaching staff and the players.
"This summer at their two-a-days we came up there one evening and we handed out these little bracelets to all of them," Misty said. "It says 'The power of positive thinking,' and on the inside it says 'Believe in yourself.' He wants the team to know that if they believe in themselves and they think positively, then good things will happen to them."
Chamberlain said he believes it was important to get Reed connected with the team.
"I wanted to make sure he wasn't just a ghost to everybody," Chamberlain said. "I wanted him to feel welcome. I'm sure he does, and I just want him to have fun."
Reed said he's had lots of fun and has loved creating a bond with the team.
"The players care about me," Reed said. "I support them and they support me too. They don't care about if I'm in a wheelchair or not. They make me feel like I'm one of them."
View Comments (2)
About the Contributor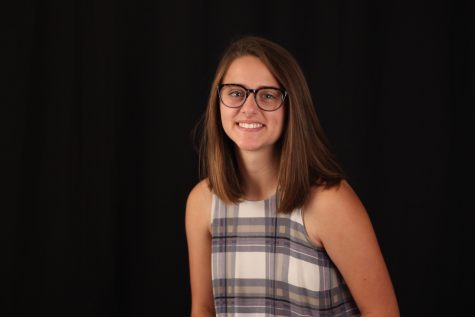 Mandy Halbert, Staff Reporter
Mandy is a senior this year, but she's still just as afraid of high school hallways as she was as a freshman. But aside from that, she looks forward...