GT students revamp 1893 World's Fair
Though the GT AP English Language and Composition class concluded their reading of Erik Larson's book, Devil in the White City, last week, their work is not over yet as this week marks the third annual grand opening of the class's very own rendition of the 1893 Chicago World's Fair Columbian Exposition through their Court of Innovation project.
"The Court of Innovation is most simply a reenactment of the 1893 Chicago World's Columbian Exposition," junior Courtney Reid said. "For my project, my goal is to construct a model of a Ferris wheel bigger than the one Mr. Eairheart has in his class."
The task given to the students each year by AP English Language and Composition teacher Jasen Eairheart is to recreate what they think is the single most innovative object presented at the 1893 World's Fair, and then present it to the class in the form of an argument as to why their chosen object deserves the title of most innovative.
"With the end goal as argument in mind, this project allows them to use something that they have a strength in, whatever that might be, to bring them closer to this goal" Eairheart said.
While some projects, especially in AP classes, can be overloaded with strict instructions that allow for little individuality, the Court of Innovation's loose guidelines allow for widely varied projects across the class, ultimately making the presentations much more interesting.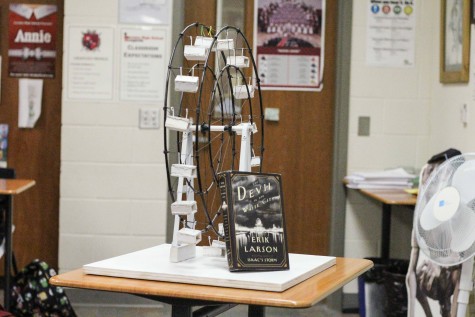 "The projects vary from music to acting to engineering to computers, depending on what that student's strength is," Eairheart said. "Last year's presentation subjects ranged from the zipper to monumental architecture."
In addition to presentations over the big and exciting new inventions at the World's Fair, like the Ferris wheel, some students are focusing on inventions of much lower scales.
"I'm doing my presentation over De Cecco pasta, which was introduced as an innovation at the 1893 Chicago World's Fair because this pasta implemented a new technique of drying the noodles at a lower temperature to make the quality better," junior Katie Abernathy said.
Although the Court of Innovation presentation has many requirements, such as the paired three-page argumentative essay, the broad range of possibilities given to the AP GT English Language and Composition students makes all the difference through providing them with an incentive to complete their project.
"There are so many different ways people are filling the requirements of the Court of Innovation and so many different inventions being presented by my classmates," Abernathy said. "I mean I'm cooking a bunch of different pasta recipes for an English project, so in my opinion, the Court of Innovation is a lot more creative than any other project I've done."