Fine arts rehearsal space construction complete
As the school grows, the programs grow as well. After 10 years of the high school, the dance room that was made to fit 12 people no longer does its job for the Majestics and studio dance classes.
Construction was finally completed on the new fine arts facility over Thanksgiving break and the space was open for use beginning last week.
"The new fine arts rehearsal space is the home of the dance department, home of Majestics, the color guard, and then also the cheerleaders," said Fela Lowrance, secondary fine arts coordinator and Majestics dance team director. "The goal for designing the new facility was to create a space that was usable for all of the organizations that needed to have this space"
The new space benefits many different programs in different ways.
"We were thinking of people who needed a competition space, and also a movement space for the dance department," Lowrance said. "There were a lot of different pieces that had to go into the thought process for the space. For instance the color guard needs a really sturdy floor for throwing rifles and flags. We needed a really solid dance floor that could accommodate the many different styles of dance they might want to do in the dance department. Cheerleaders need to be able to tumble."
The high school invested in a floor that would benefit all programs. The floor is a harlequin wood-sprung dance floor. That means the floor is designed to absorb shock intention. It is the same dance floor used at Juilliard.
"I like the new practice space a lot because there are a lot of mirrors," sophomore and majestic Allie Karnes said. "Also the flooring is actual dance floor. Its called marley and it makes the floor easy to dance and turn on."
This new facility also provides a permanent home for some groups without a practice space. Cheerleaders never had anywhere to practice and had gotten used to being "nomadic".
"We would get kicked out of everywhere," sophomore and cheerleader Nikki Sorenson said. "It made me very angry and I did not like it at all. For half of our practice, we would practice in the field house with the football players and the softball players, and then at 4:15 we would have to leave there and find somewhere else to practice, which was different every day. We would go to the dance room, gym, parking lot, auditorium lobby, library lobby, or the gym lobby."
The new facility contains many features that the old dance studio didn't have.
"The parts of the space include two offices, for whoever needs them, a locker space for our studio dance students and pre-drill students, and Majestics' lockers are moved to this side of the building," Lowrance said. "There is also a balcony that enables the directors to watch practices from above instead of floor level so they have more of a sense of what happens if there is an audience in the gym. There are ballet bars, mirrors, water fountains, and also a bathroom facility."
The dance program, pre-dance and studio dance also use this new space.
"My favorite part of the new facility is that the whole team can fit," studio dance and Majestics coach Jenny Willis said. "Also that my dance classes really get to dance all the way across the floor. I think that is really really great. They can dance full out all the time."
Plans have already been made to use the previous dance space.
"They are knocking down the wall behind the vending machines and then the interior wall to that hallway," Willis said. "That space will then become more cafeteria space."
When designing the studio, coaches toured other schools to get ideas to help them decide what the high school's should look like.
"It is a pretty incredible space," Lowrance said. "Most high schools don't have a floor like this one and our high school is really fortunate for our fine arts to have a well-made and large space like this to practice. I think it is amazing and we are are very fortunate."
About the Contributors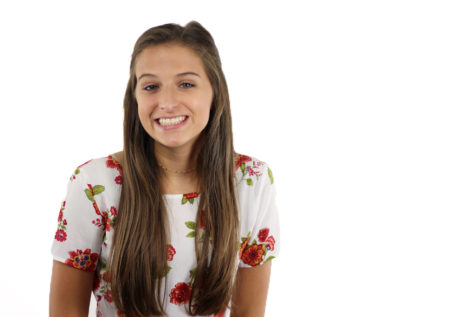 Mary Catherine Wells, TRL Editor-in-Chief
Mary Catherine Wells, a now senior at Lovejoy High School, proudly takes on the role of Editor-in-Chief at her online school newspaper, The Red Ledger....
Ian Raybon, Multimedia Editor
Ian Raybon figures that if Alicia Keys was a man, there would be a song apt enough to describe him because he is constantly on fire. Ian has tried to find...