Athletic camps offer coaching opportunity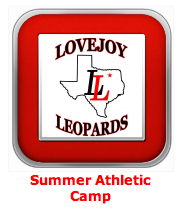 As students and staff alike relax after the school year, coaches sometimes step back and let their athletes take the lead. Over the summer, various sports are holding camps for younger athletes which the high school athletes will be running.
"I believe that the best way to learn sometimes is to teach it," volleyball coach Jason Nicholson said. "So,by having the volleyball players work camp in the summer, it gives them exposure to a different element or to the other side of the sport. When instructing you see if from a completely different angle and hopefully this is a tool that will allow for increased development for them as a player. Even more so, the kids in first through fifth grade are infatuated with the players and think it is so cool to hang out with the big girls. There is nothing better than these girls developing a relationship with our girls over a four day period.  A relationship that can build over the year as they come to games and see their idol or a friend from camp. It's a win win."
Many high schoolers love the opportunity to help out with the younger kids because they get to pass down their knowledge of the sport they love.
"I like running the kids camp because we get to spend time helping kids play the sport that we love to play and it's great to see how our volleyball program is thriving," rising juniors volleyball player Ellie Stockton said. "It's also cool that we get to be apart of the development of the kids' love of the sport and watch them grow into the future Lovejoy volleyball players."
The camps are designed to help high schoolers and elementary age students alike develop relationships through sports.
"The purpose of these camps are to introduce all our elementary age students to the various sports that Lovejoy ISD currently offers," Athletic Director Jim Bob Puckett said. "This allows the coaching staff to begin developing the relationships with these younger students and to introduce them to that particular sport's fundamentals and techniques. But the top priority for all camps is to have fun and enjoy their time being together with friends learning an activity that they may become involved with once they enter the secondary program."
As well as mentoring the younger kids in sports, the high schoolers create friendships with those they are coaching.
"I like working with the high schoolers because they help you get better at what you're trying to accomplish," rising sixth grader Collins Archer said. "They act like friends off the court and coaches on the court."