Football continues under the summer sun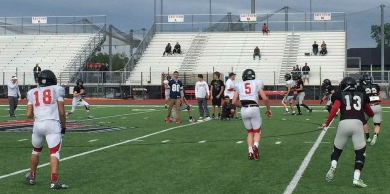 Although fall seems far away, the preparation for the next football season is well under way. Offseason workouts have been in progress for quite some time, and a recent spring football game gave the players a chance to see some game-like action. Football players now have summer to look forward to, and although there is no organized practice permitted, there will be numerous opportunities to improve.
"There are no practices during the summer," head coach Ryan Cox said. "The UIL regulates what we can and cannot do throughout the year. Summer is one of the times where we are not allowed to have organized practice of any kind. Summer is used as a season to gain strength, speed, quickness, and endurance. It's also a time where our players can become acclimated to hot weather."
There are programs/camps held by the school that are open to varying age groups, all to get ready for football.
"We offer Leopard Conditioning to all LHS/WSMS athletes and it's ran by LISD coaches," Cox said. "These camps are opportunities for our athletes to continue to build upon the gains that they made during winter and spring. It is obviously not required that our athletes attend, but those who do will be in much better shape for the 2015-2016 school year."
One player thinks the summer is the most important time of the year.
"Summer is a defining factor for success," rising sophomore Greyson Finch said. "Summer is usually what separates good teams from great teams. While most kids are probably being lazy during the break, our team has to take advantage of that and continue to approve."
Aside from these skill-based camps, players have a chance to simulate the in-game experience with a Monday league already under way.
"We are playing in a Monday league for seven on seven as well as four state qualifiers," Cox said. "We played this past weekend and qualified for the state tournament in College Station, July 9-12. We finished the day 4-0 beating Little Elm, JJ Pearce, Frisco Liberty, and Frisco Centennial. We play in another state qualifying tournament this weekend at Justin NW."
One player is looking forward to the extra work despite the other factors that play into it.
"I'm ready for the camps this summer," rising junior Luke Leggett said. "I don't mind so much waking up early for things like Leopard Conditioning because I know I'm getting better and get to go do it with all of my teammates. The heat may seem like a negative factor, but in reality it's just preparing us for conditions we could face during the actual season."