Friday night spring lights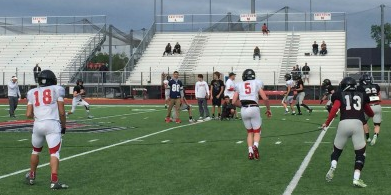 The Leopard football team will be lacing up their cleats one last time this spring as they will be competing against each other in the spring football game Friday at 6 p.m. at Leopard Stadium.
"Originally we had planned to do the spring game over at Willow Springs Middle School because of the construction at our home stadium," head football coach Ryan Cox said. "We felt that it was necessary to try to avoid that at that time."
However, after giving the situation more thought, Cox decided to move the spring game back to the Leopard's home stadium.
"Going forward from a week ago when we made the decision to move it back to the high school," Cox said. "We just felt that we had been practicing out here, it is a better venue for us, our locker rooms are here, we have the indoor that we can get players into a lot easier in case there is inclement weather."
The main goal for the football team during spring ball is to get better and have fun. That is what Cox hopes the team can do during the spring game.
"From the spring football game, and really from spring as a whole, our goal going into this was to have fun and get better, and we have accomplished that. For the spring game, have fun," Cox said. "Just go out and play the game, and don't worry about anything."
For the players, there is one simple goal for Friday's spring game.
"I hope that we can leave the spring game confident in our abilities on both sides of the ball heading into the upcoming season," freshman Bumper Pool said.
After the spring game, the skill players on the football team will be turning around early Saturday morning to compete against other schools in their first seven on seven tournament of the year. Players will do the most they can to ensure they have the most energy possible for the tournament.
"It will start the night before by hydrating and drinking a lot of water and gatorade," sophomore Blake Pfaff said. "I'll eat a big breakfast the morning of, as well as more gatorade and water."