Graffiti mars baseball dugout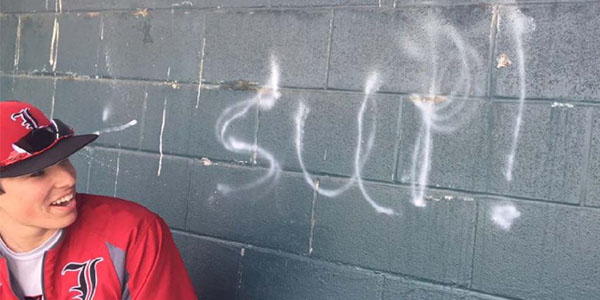 One of the dugouts on the baseball field was the recent site of some vandalism as an unknown perpetrator spray painted the words "sup" and "hi" on the wall.
"I found out [about the vandalization] as soon as I walked in the dugout," head baseball coach Russell Reichenbach said.
Administration was notified immediately and fixed the problem as soon as they could.
"I let administration know that someone had painted parts of our dugout," Reichenbach said. "They came out and fixed it the next day."
The team was caught off guard when they saw the graffiti as it was the second time something has been vandalized in athletics.
"The team was very surprised and we did not expect it," junior Michael Koval said. What made it more surprising was that other graffiti had recently been covered up on the POD."
Although the baseball team did not appreciate the graffiti, they are making it light of it.
"It is kind of a running joke between me and a few teammates," junior Jacob Parrott said. "Since nothing inappropriate was written in the dugout, we joke about how it should be the 'wall of encouragement'"
This is not the first time something like this has happened on the baseball field.
"We have had some other incidents at the field, but thankfully nothing major," Reichenbach said. "It's a really immature, disrespectful thing for someone to do, so thankfully it hasn't happened often."