Class elections begin Tuesday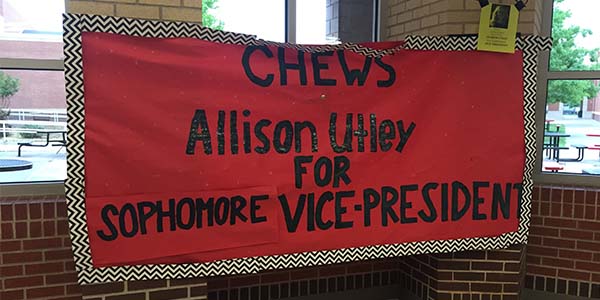 The signs are everywhere. From the commons to above the drinking fountains, there are more than usual and now it's time for students to choose their student representatives as class officer elections runs from Tuesday through Thursday with the results announced on Friday.
"I am not sure why there is so much interest in this year, but we have made sure the elections were more publicized over twitter, posters being put up in the hallways, and just word of mouth," student council adviser Theresa Dollinger said. "The freshman and sophomores have been very involved which is a good sign for our future."
The increased participation by candidates is helping to increase the competition.
"The class sizes at the high school and overall in the district are growing," sophomore class president candidate Kate Morgan said. "With this growth, comes a lot of ambitious people from different groups. I think the competition is a reflection of the amount of leaders in our school and how many people are enticed at the opportunity to help the school and community."
For other students, the increased number of candidates is a positive reflection on how impactful the student council's work can be.
"The competition has made me more aware of how important our work us for our school and that creating awareness is a powerful thing," sophomore class vice president candidate Allison Utley said. "I am glad to see the interest."
However, the increased competition also brings more pressure and more stress for some students.
"The campaigning has hit me both physically and emotionally," Morgan said. "Staying up late to make campaign posters and coming up with campaign material is physically exhausting. And the fact that my competition is one of my good friends is also emotionally exhausting and challenging. Also, many false rumors have been going around judging me as a person and as a candidate. That's also very emotionally straining. But I want to assure my class that I am a serious candidate honored to serve as their president this year and is hopeful for a second year to carry out my plentiful visions of uniting the student body and the community."
Several of the candidates have new ideas they would like to bring to fruition if elected.
"I hope to add a charity winter formal," Utley said. "My plan is for all of the proceeds to go to a charity chosen by our student body."
Other candidates are focused on implementing the wants of the student body.
"I hope to make my sophomore class better by just simply listening to the input of my classmates," sophomore class president candidate Siobhan Pitan said.
While all the candidates think they have something unique to offer, Dollinger believes there are certain attributes that every elected officer must possess in order to be successful.
"They must work well with and for others," Dollinger said. "They need to maintain a great relationship with their student body and their staff advisers."