Swimming has a new pool in their future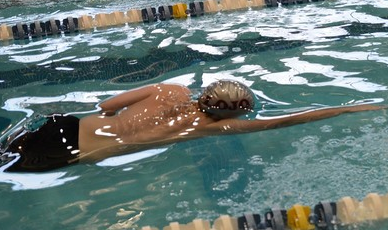 Practicing for ninety minutes every day from August to May takes an incredible amount of dedication from the Leopard swim team. The fact that their practices occur far from campus is the icing on the cake. Fortunately, future swimmers will have the convenience of a new pool on campus. Though it is not expected for a while, swimming is still excited at the thought no matter how long the wait.
"I do not know the exact timeline of the pool," head swimming coach Greg Fisher said. "When the bond was passed last spring, the bond was in the second proposition, which means the pool was not considered a high priority. But, because both propositions passed, the board may move up the pool because it is an obvious need. My hope is that we will have the pool in the next two years."
Fisher may off on his timetable but the pool is scheduled to be built in three years.
"The pool is scheduled for the 2018 selling of the current bond that passed this May," athletic director Jim Bob Puckett said. "Once these bonds are sold, then the construction of the pool will begin soon after that, but no time has been determined."
Fisher believes that a pool in the district will make a substantial difference.
"The pool will change everything for the diving and swimming program," Fisher said. "We will have more flexibility with our practice times. We can start programs to develop future divers and swimmers."
The swimmers themselves also will enjoy the luxury of having a pool so close.
"It's been a hassle to travel all the way to Oak Point just to use their pools," swimmer Logan Barker said. "It's a relief to know we'll have a pool so close. I think it'll help our team immensely.
Though Fisher is biased in his perspective, he is aware the addition will be a good thing for the athletic department as a whole.
"It will also be nice because other programs can use the pool for training and for rehab," Fisher said. "Everyone is excited about the prospect of having our own place to train. It will make us a better team."