Swim overcomes distance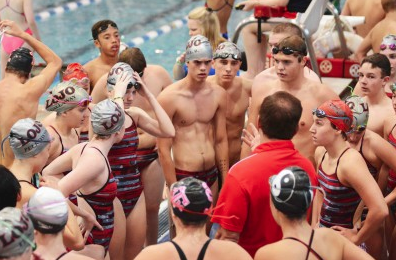 While most student athletes simply walk to the gym or the stadium for practice, members of the swim team have to be on road by 6:30 a.m. in order to make it to their 7 a.m. practice at Oak Point Center in Plano. Practicing until 8:45 a.m., they then get ready for a day at school, arriving at the high school in time for 2nd period.
"I'm used to going to far away pools for meets and practices with club, so traveling with the high school isn't a big deal," freshman Emma Reem said. "We have traveled as far as Texarkana this year and hopefully we can make it to state in Austin."
Despite traveling to a practice space a bit farther than most would consider ideal, the team has achieved its greatest success this year, with more team members advancing to this weekend's regional meet than ever before.
"I'm very excited for regionals because I'm swimming all four of my events including two relays which have a chance of making it to state," senior and girls captain, Monique Pages said.
The regional meet is scheduled for February 7-8 at Frisco Natatorium.