15 movies for 2015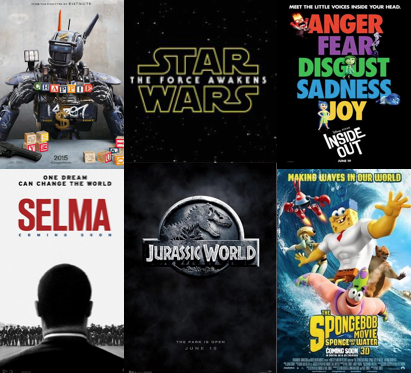 2014 was a big year for film. Marvel released smash hits Guardians of the Galaxy and Captain America: The Winter Soldier, books took on the silver screen in movies including Gone Girl and The Fault In Our Stars, and bio-pics like The Imitation Game and Wild are receiving a major fraction of the buzz this award season. Although it's only just begun, 2015 is already filled with anticipation for the films coming soon.
1. Selma (released Jan. 9)
This film about Martin Luther King Jr.'s march from Selma to Montgomery, Alabama to secure equal voting rights is already leading to talk about possible awards. The film stars rather unknown actors including David Oyelowo as MLK and household names including Oprah Winfrey.
2. The Spongebob Movie: Fish Out Of Water (Feb. 6)
In Spongebob's second feature length film, Spongebob and friends venture to land to get a stolen recipe. The majority of the television show's original cast including Tom Kenny are returning, but new actors are joining including Antonio Banderas as a pirate.
3. The Last Five Years (Feb. 13)
This musical tells the love story of a novelist and an aspiring actress, played by Jeremy Jordan and Anna Kendrick, and the struggles they face in their relationship.
4. Kingsman: The Secret Service (Feb. 13)
This action packed flick stars Colin Firth, Michael Caine, and Samuel L. Jackson playing veteran secret agents that take a new, younger agent (Taron Egerton) in, testing his skills to determine if he has what it takes.
5. Chappie (Mar. 6)
From the director of District 9, Chappie is about a young prodigy robot that is taken in by what could be considered a dysfunctional family of sorts and along the way he learns about emotion and what it's like being an outcast. Hugh Jackman, Dev Patel, and Sigourney Weaver star.
6. Cinderella (Mar. 13)
Disney's next fairytale revamps the classic Cinderella story, starring Lilly James as the title character and Helena Bonham Carter as the Fairy Godmother. Unlike recent Disney releases such as Maleficent or Into The Woods, this adaptation looks like it is going to stay rather close to the original storyline.
7. Avengers: Age of Ultron (May 1)
The highly anticipated sequel to 2012's The Avengers is on it's way. The majority of the original cast is returning for the film, but this time around James Spader will be playing the Marvel Cinematic Universe's latest villain, Ultron, taking on the superheroes.
8. Paper Towns (Jun. 5)
The latest adaptation of a John Green novel, Paper Towns, is coming to the big screen after the success of The Fault In Our Stars. After a wild night of antics together, teenager Q's (Nat Wolff) neighbor Margo (supermodel Cara Delevigne) goes missing. Q and his friends then go on a journey across the country to find her and along the way learn a lot about themselves.
 9. Jurassic World (Jun. 12)
About fourteen years after Jurassic Park III's release, 22 years after the first film's events a completely new cast including Chris Pratt, Bryce Dallas Howard and Jake Johnson must face a hybrid dinosaur.
10. Inside Out (Jun. 19)
Pixar's latest film brings to life common, but vastly different emotions including Anger, Fear, Disgust, Sadness, and Joy. Many of the films stars have been on recent seasons of Saturday Night Live including Amy Poehler, Bill Hader, and The Office alum Mindy Kaling.
11. Ricki and the Flash (Jun. 26)
In this film, an aging woman, Ricki, (Meryl Streep) abandons her normal life and family to pursue her dreams of becoming a rock star. Along the way she is asked to visit her ex-husband (Kevin Kline) to help her estranged daughter, Julie, (Streep's real daughter Mamie Gummer) through a difficult time. Other actors in the film include Sebastian Stan and Ben Platt.
 12. Ant-Man (Jul. 17)
Marvel's latest cinematic endeavor stars Paul Rudd as Scott Lang/Ant-Man, a thief that gets tangled up in helping his mentor in protecting Ant-Man technology that gives people super strength while they greatly decrease in size.
 13. The Walk (Oct. 2)
Robert Zemeckis's latest biographical film tells the story of French high-wire artist Philippe Petit's (Joseph Gordon-Levitt) walk between the World Trade Center towers in 1974. This is Zemeckis's first film after 2012's Flight.
 14. Spectre (Nov. 6)
So far very little information about the latest James Bond film or it's plot has been released (or leaked), but it has been confirmed that Daniel Craig is returning to play Bond with Dave Bautista and Academy Award Winner Christoph Waltz also a part of the cast.
15. Star Wars: Episode VII – The Force Awakens (Dec. 18)
Last but not least, the highly anticipated seventh Star Wars film is on its way. New cast members including Oscar Isaac and Adam Driver are considered the stars, but original cast members Mark Hamill, Carrie Fisher and Harrison Ford are returning to reprise their roles as Luke Skywalker, Princess Leia, and Han Solo.