Boxell's pedigree brings established leadership
The Red Ledger's Dom Mazero sits down with head girls basketball coach Lance Boxell as the team gets ready to start its season Tuesday.
Lance Boxell: the new head girls' basketball coach was literally born and raised around the game. With his unique background, Boxell is looking forward to making his mark on the Lady Leopards' program after Coach Branche's departure last spring.

"My dad has been a coach for 25 years, and he coached me ever since I was little. Because of him, I have always been around the game, and that was a big influence on me" Boxell said.

With constant learning of the game on and off the court, Boxell was poised for continuing his career into college.

"I went on to play in college at North Texas and at Lubbock Christian. So I got to learn from the coaches there" Boxell said.

After college, some lessons became paramount to Boxell's philosophy as a basketball coach.

"One of the most valuable lessons I've learned is working well with the team, either as a coach or a player. I feel like that is important because whatever the kids end up doing, they will have to learn to work as a team for their future job" Boxell said.

After leading his Ponder high school team to the state championship in 2001, Boxell knows a lot through firsthand experience about what it takes to get to that final round.

"I think you have to have a lot of players who are talented. And along with talent, you have to have a team that is willing to sacrifice, play certain roles, and willing to put in the time that other teams aren't willing to put in" Boxell said. "Also, you need to catch a couple breaks along the way because there's a lot of good teams every year."

From his father, his playing career, and the surrounding good coaches, Boxell is planning to implement a style of play that might be a little different than what the girl's basketball team is accustomed to.

"

We want to teach the girls the fundamentals, the right way to play. We are trying to get them to learn that it takes more of a commitment to become a better player"

— Boxell

.

"We want to teach the girls the fundamentals, the right way to play. We are trying to get them to learn that it takes more of a commitment to become a better player" Boxell said. "We are stressing man defense this year which is a little bit of a change for the girls. So we have had to work on our defensive technique. Offensively, we are just trying to develop their skills so that when they get to the game, they're able to put themselves in situations to be successful."

With change sometimes comes friction and tension. However, that is far from the case for the girls' basketball team.

"He is very fundamental, and he doesn't let anything slide. You do something wrong, and he will stop the drill and tell you every time you do it wrong. This is something we have never had before" Senior basketball player Samantha Odom said. "He doesn't move on until he sees you do it right. That is a definite plus" Odom said.

As for Boxell's unique background, the girls' basketball team is excited to have a coach who knows exactly what it takes to get to the top.

"With him playing in a state title, I think that experience will bring a type of leadership we haven't seen before in our coaches" Senior basketball player Rachel Hise. "This will create respect between all the players and him, and a type of trust that makes us want to play our very best for our new coach."
Leave a Comment
About the Contributor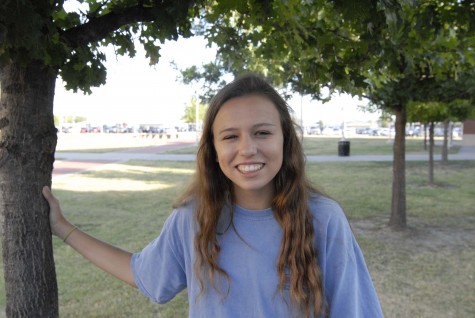 Dominique Mazero, Staff Reporter
Hey lil mama lemme whisper in ya ear. Here's a swaggy bio you might wanna hear. Okay the rap part of this bio is done. So stop reading it in rhythm with...