The biggest class in school history
Campus capacity pushed to its limits with the school's largest freshman class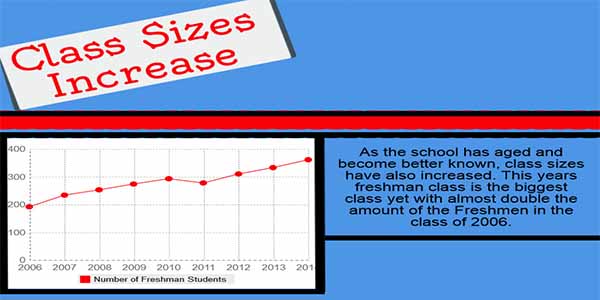 When the little red school house opened in 1917 with it's 4 classrooms, local community members probably couldn't imagine that tiny building becoming foundation of the 5A school district it is today. Each year, the school adds students by the dozen, and the 2014-2015 year is no exception. In fact, this is the biggest the high school has been, with the largest freshman class ever.
"This year's freshman class [has] 362 [students]," counselor Amanda Breeden said. "The current sophomores are at 331 this year, the juniors are at 305, and then the seniors are at 264. So there is almost a hundred more freshmen than seniors."
With the surrounding developing area, more students and families are moving into the district.
"I think there are a couple reason why [the school] is growing," Breeden said. "Our school is good, and it's getting a good reputation and people are hearing about it. A lot of times people are moving in after elementary school, because the elementary schools at Plano might be really good, but as you get older, you're part of a bigger system [in Plano]. Also, there is a lot of building going on around."
The population of the district impacts many aspects around the school, from the fields and gyms to the classrooms and hallways.
"The growth [of the school] causes two things to be going on," Breeden said. "We have more students overall as a whole than we have had ever before at Lovejoy High School. And, there are some budget situations within the whole Texas government and school budgets, so it's really putting a hard strain on the school to have enough teachers, to pay the teachers enough, to fit the amount of kids, and that's why it seems kind of tight when you go to classes."
While the hallways seem crowded, it may be even more so in many classes where there are 30 or more students enrolled.
"[I have] 32 [freshman in my first period class.]," freshman GT English teacher Courtney Todd said. "Sometimes it's challenging, and I want to make sure I give everyone my time and give everyone a chance to share their opinions, but sometimes, due to timing, we have to move on."
Students, especially non-freshmen, have already noticed the large amount of 9th graders and new students throughout the hallways.
"I feel like I see a lot of freshman when I am walking around," sophomore Sarah Speicher said. "Also, the hallways are really crowded and it makes it tough to get to places fast,"
If this large increase in freshmen classes occur every year, the school could become overpopulated.
"[To deal with this amount of students] we definitely would have to build more," Breeden said. "On the B-Hall wing, there is a sign out that says future additions, so there's already plans, and the bond passed. I'm not sure when the construction will start, but the plan is for that to start. Then B-Hall will be as long as the D-Hall is. There will be about ten to twelve new classrooms so that will also help."
About the Contributor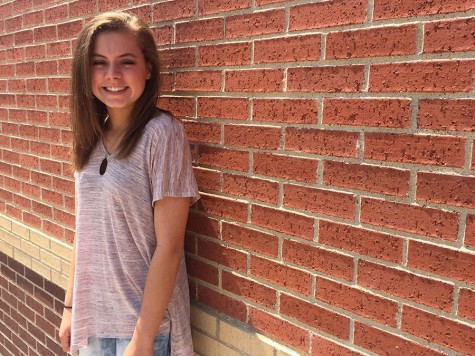 Annabelle Archer, Staff Reporter
As a seventh grader, Annabelle's love for writing and the persuasion of her teachers drew her to sign up for a class she knew nothing about. She walked...