To be, or not to be: a teacher's love of all things Hamlet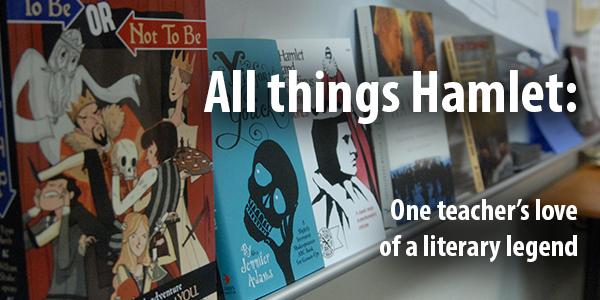 Ghosts, murders, and kings have one English teacher drawn to a piece of writing more than 400 years old. AP Literature and Composition teacher and Shakespeare fan,  Amanda Glorioso has read William Shakespeare's Hamlet over 17 times.
"It's definitely my favorite piece that I teach all year just from the reaction that I get from my students. I would call myself a fan, absolutely," Glorioso said.
Glorioso was introduced to Shakespeare in high school, but the first time she read Hamlet was after high school.
"I first read Hamlet in my college Shakespeare course," Glorioso said. "It wasn't until then that I was exposed to the complexities of the work and the relative human condition in which we can all relate."
What draws Glorioso to the play is not on the 'surface'. To this Hamlet fan, it's the overall emotional connection to the piece that intrigues her.
"I think what makes it so fascinating is that is the perfect representation of human emotion," Glorioso said. "That's what makes it so timeless. Through an intense study of the powerful character contemplation and the wide range of emotions displayed by Hamlet, I am able to really connect with students. I discover new complexities about the piece each year. That's what makes it such a charming yet problematic text."
As the AP Literature classes continue on into Act III, excitement grows in this Hamlet fan's heart and in the classroom.
"I'm just so excited every day and I tell them [students] that," Glorioso said. "I'm like 'Ooh, wait till you see what happens today' or 'Wait till you read what his thoughts are on the previous scene. You're not going to believe it' And it's this sort of excitement that I have for it that makes students curious. I just have a real passion for it."
Glorioso has cried while reading the play and to her kids this isn't a surprise.
"Typical," daughter Gabby Glorioso said.
Some students are as much entranced by the play as Glorioso and think that they are more drawn to the play because of her enthusiasm.
"I feel like her love for it kind of got in my soul or something," senior and AP Literature student Maggie Compton said. "Her passion for the subject help us want to actually learn. I dont think I would have been as invested if I didn't have someone who loved Shakespeare as much as she does. [She has] a deep love of Hamlet. She loves it and it makes everyone else love it. I don't think I've heard anyone complain about it."
Glorioso tries to get her students engaged with the piece and has succeeded with some students.
"It's just amazing. I could cry about it; it's kind of embarrassing," Compton said. "I stayed after class to talk to her about it. I love it so much. I can't even explain it. I honestly don't want it to end. It's literally my motivation to come to school. I've never been so attached to a book. It's inspired me to go on in college and write and take English. I just have gotten really attached to the book."
Not only are her students impacted by her love of the play, but even her kids know what time of year it is.
"She's obsessed with it," Gabby Glorioso said. "If she hears a very small reference to it, she won't stop talking about it. Sometimes she will quote it. [Hamlet time] is a fun time for her. She gets excited. She's told me the story every now and then. I started reading [some of her Hamlet books] so I kind of know the story now."
Along with reading the play, the classes participate in a film study using the movie made in 1996 starring Kenneth Branagh in the title role.
"Shakespeare intended for us to see his work come to life and not simply sit in front of his text…," Glorioso said. "So we spend a large amount of class time analyzing the soliloquies before we watch them play out on the big screen. I don't want the movie to be the final word on how a scene should be portrayed. I want my students to make conclusions about the characters, relationships, feelings, and emotions behind the work before they actually see it."
While Glorioso has emotional connections and learned life lessons from Hamlet, it has also helped her refine a teaching style.
"I think it's helped me to welcome a wide variety of interpretations from my students," Glorioso said. "Hamlet himself states that 'There is nothing either good or bad, but thinking makes it so.' Perspective can transform how we think, and this is only one of the many lessons that he teaches us."
The school's first and only AP Lit. teacher, she has been imparting her knowledge of the play since the first graduating class of 2010. Despite the numerous readings and class discussions, Hamlet never gets old for Glorioso.
"I came here with the first senior class; it was part of what I brought to Lovejoy HS," Glorioso said. "It has always been part [of the curriculum], but does it look the same as it did for the class of 2010?; not at all, but I think they had a similar take-away as my current students. The text never changes, but it seems to morph into something new and exciting with each senior class. That's the real beauty of it."
About the Writer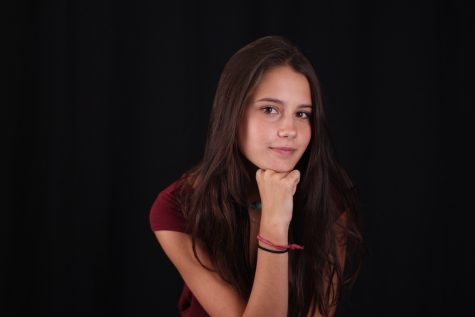 Hallie Fischer, Editor-in-Chief
Hallie (ha-lee) Fischer is a super-excited, kinda-tall, slightly-sarcastic writer who is more than ready to start her fourth and final year on staff as...