Elevator for injured use only
Hang on for a minute...we're trying to find some more stories you might like.
With the end of school almost in sight, more and more people have been caught riding the elevator without permission. While the students' intentions may be harmless, they are causing problems for other students who are unable to walk up and down the stairs. School nurse Jeannie Haines is in charge of giving out the elevator passes.
"The teachers and the staff are usually pretty good about when they see somebody on the elevator who doesn't seem to have any reason to be on there, they might ask to see their elevator pass," Haines said. "Officer Mitchell is really good a couple times a day, he'll take a look at the elevator and see what's going on. And the main reason for that is it needs to be available for those who really do need it and can't get up and down the stairs."
Haines keeps track of students that have injuries or recent surgeries, while a few teachers and faculty members, like assistant principal Bruce Coachman and Officer Mitchell, make sure that students without medical excuses are not keeping others who need the elevator from getting to class.
"We ride the elevator all the time," freshman Dominic Schwartz said. "But we were going to ride the elevator one day, and we pushed the button, waited for the elevator to come, and Coachman walked by, and he kind of yelled at us and told us that we're not injured or anything."
For students with major injuries, like freshman Hannah Nichols, getting up and down the stairs every day would be extremely difficult.
"I tore my ACL by playing volleyball," Nichols said. "I ride the elevator two or three times a day to get to class, which is kind of embarrassing. But sometimes there are just random kids riding it."
Although only a few students ride the elevator during passing periods, it can be a delay for many others who rely on it to get to class upstairs.
"When students have medical or physical situations that they can't be on the stairs, for their safety and wellbeing we want those who need the elevator to have access to it." Haines said.

About the Writer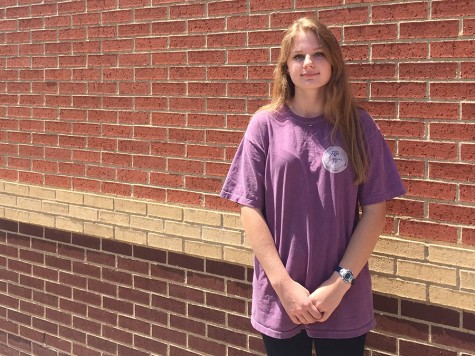 Savannah Whitmer, News Editor
As a senior, this is Savannah Whitmer's fourth and final year on The Red Ledger staff. Previously known to her devoted readers as The Only Human Ever...