Ready, Set, Teach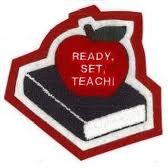 Traveling multiple times a week to the district's elementary and middle schools, several students have been getting invaluable hands-on experience in the educational field.
"Ready, Set, Teach! is a class for students that are interested in maybe becoming teachers or working with kids one day," Family and Consumer Science teacher Amanda Gulley said. "It is an internship class where the students go three days a week to attend a local elementary or middle school and participate in internships with the elementary and middle school teachers."
Approximately three times per week during their fourth period class, the students enrolled in the Ready, Set, Teach! class make the trek to either one of the district's elementary schools or its middle school to observe a classroom where they will eventually be able to assist the teacher in instructing the students.
"On Tuesdays through Thursdays, we go to our assigned classroom, either an elementary school or Sloan Creek [Middle School], for about an hour," junior Rachel Genrich said. "We help out with a class in whichever grade we want to teach. We see how the teacher teaches, and in time, we'll be able to teach the students a little bit."
The students assist in a wide variety of classes, ranging from a third grade math class at Lovejoy Elementary to an eighth grade Spanish I class at Sloan Creek Middle School.
"I really like being able to go off-campus and work with the kids," junior Jenna Reitinger said.
In order to participate in the student-teaching program, students must first take a introduction to education and teaching course, and then must apply for the limited spots available in the class.
"I really like working with kids and hope to be a teacher when I'm older," Reitinger said.