New bullying law comes to campus
Hang on for a minute...we're trying to find some more stories you might like.
After listening to countless hours of tearful testimonies from bullying victims and their families in a session of the state legislature and the building pressure from the public for schools to crack down on bullying, Texas lawmakers overwhelmingly passed House Bill 1942, which will require schools to respond more proactively to reports of bullying amongst students.
Starting with the 2012-2013 school year, school boards are now required to adopt the following policies and procedures to help reduce bullying in schools:
•    Prohibit retaliation against any person who, in good faith, reports bullying
•    Establish a procedure for notifying the parent or guardian of a bullying victim within a reasonable period of time
•    Establish procedure that a bullying victim can take to get the assistance of the school board in ending bullying
•    Have counseling available for bullying victims, witnesses, or the bullies themselves
•    Establish a reliable system for students to report bullying in schools
•    Prohibit the punishment of bullying victims who used a reasonable amount of self-defense against bullies
•    The disciplining of bullies who suffer from disabilities must comply with federal and state laws about the treatment of students with disabilities
In compliance with this law, school administrators have created an online form where students can anonymously report bullying that they are either witnesses to or victims of.
To report bullying via the online form, students must first go to the school's home page and click on the "Student Resources" tab. Next he or she must click on the first link, titled "Bullying Notification Form". Students will be taken to the page where they can fill out the form, including specific details such as where the event had occurred and who was involved, and can either be anonymous or submit their name, and this report will be delivered to the assistant principals who will handle the situation.
For further information about the state's latest bullying laws, see the Texas Association of School Board's webpage on the latest bullying law at http://www.tasb.org/legislative/legislative/reports/2011/documents/bullychange.pdf.
About the Writer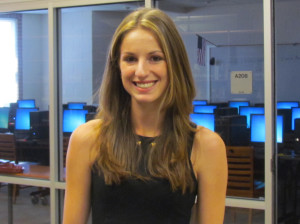 Olivia Griffin, News Editor
Olivia Griffin can't wait to use the "but...I'm a Senior!" excuse as the answer to all of life's problems. As far as college next year, she will...