Campus courtyard eyesore
Hang on for a minute...we're trying to find some more stories you might like.
As students make their daily commute to school, it is hard not to notice the prevalence of weeds on school grounds.
The school has experienced warmer weather since early February, and with it comes growing grass. But the while the grass is mowed, the weeds throughout the campus have met little opposition.
The general unkempt style of the courtyard has aroused discontent with the students and staff.
"I hate walking over them," junior Erin Shafranek said. "Someone should do something about this craziness."
Sophomore Austin Cooper thinks the overgrown look does a disservice to the school.
"I believe the weeds in the courtyard are pointless," Cooper said. "If they're just for decoration, they should plant something nicer."

Loading ...

Loading ...
Despite the abundance of weeds this year, art teacher Kenneth Pruitt says it is not a random coincidence.
"These weeds are the worst weeds that we've seen in years," he said.  "And the reason for it was the drought."
Last year's drought caused many plants that require large quantities of water to die, Pruitt said, which allowed weeds, which require barely any water to flourish.
"This gives them a chance to get a foothold, and so weed seeds have blown in the breeze, wherever they hit a seed is planted, and it grows" Pruitt said.
Recent weather factors, especially the mild winter, have caused the weed population to grow earlier than expected.
But Pruitt said the unusual proliferation of weeds is no excuse for the district not to act.
"You can get rid of the weeds, but it's going to take an effort to do it," he said. "They also seem to be resistant to some of the stuff that actually kills weeds."
Assistant principal Chris Mayfield said that the proliferation of weeds had caught the administration off-guard, but the problem is going to be resolved quickly.
"As far as the weeds in the courtyard go, what we have going on right now is that we have a guy in the district that handles this," he said. "We do not do outside contracting, and we've had a very warm and wet spring which has been really good, but has made stuff grow a lot faster."
But the overgrown appearance of the school is a part of a larger trend that has persisted longer than the dry winter. Last year's Big Event had seniors plant trees along the side of the campus, an activity that has reached notoriety among students.
Mayfield did not have a response toward questions about the Big Event mishap, but blamed the overgrown courtyard on recent funding issues while emphasizing the importance of a visually clean campus aesthetic.
"Our staffing is different this year because of budget constraints, and if you combine that with the great weather and that's made it a little difficult to manage that stuff," he said. "We're going to try to adjust to do everything we can do to make everything look nice like we want it to."
Have ideas to get rid of weeds? Let us know below in the comment section!

About the Writer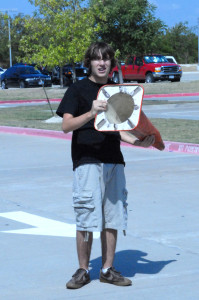 Adam Schasel, Staff Reporter
As clever as he is strong, as charming as he is quick, and as smart as he is intelligent, Adam Schasel was born in a hospital somewhere but immediately...