Sigh No More leaves listeners wanting more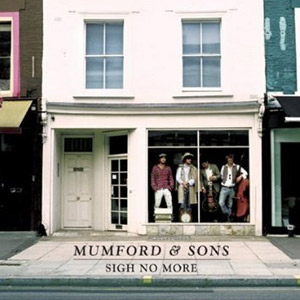 Folk and alternative-rock band Mumford & Sons is without a doubt the best new band of the decade. After gaining recognition and a cult following in the United States after the release of their debut album, Sigh No More, in February 2010, Mumford & Sons is on their way to dominating the alternative and folk music industries.
The band's debut album, Sigh No More, features folk and bluegrass influences, but do not assume that they are just "some boring old country band". If anything, they are the complete opposite – Mumford & Sons is interesting and different, and behind each song on the album, there is a large dose of both intelligence and dynamism.
Rather than distract the listener with loud, obnoxious background music, the band makes the bold choice to use simple, quiet instrumentals to emphasize the theme of the songs, such as in Timshel, where the band has just a simple, quiet guitar to back up the inspiring chorus of the song "You are not alone in this/As brothers we will stand and hold your hand".
Marcus Mumford, the band's namesake, should be applauded for his musical genius. In addition to serving as the lead singer of the quartet, Mumford also plays the guitar, mandolin, accordion and drums on the album. Mumford showcases his talent as a drummer towards the end of Dust Bowl Dance, where he steals the show with an ingenious drum solo.
While all of the songs on the album are incomparable, Dust Bowl Dance, I Gave You All, Awake My Soul and Thistle & Weeds stand out for their excellence. Dust Bowl Dance tells a tragic story about the Dust Bowl; while Mumford does an excellent job of enhancing the mood of I Gave You All with the intensity of the emotions in his voice; Awake My Soul, contrasting many of the more solemn tracks on the album, has an inspirational and uplifting mood; and Thistle & Weeds' repeated lyrics "I will hold on, oh I will hold on" are well supported by the dynamic background music.
Although Sigh No More will appeal to a wide variety of audiences, Green Day, U2, A Day to Remember and John Mayer fans will all be very likely to enjoy the album.
Mumford & Sons is going to be the next big thing in the music industry. Their cult following has grown and will continue to grow by the thousands on a daily basis. The quartet is following in the footsteps of legendary bands such as Nirvana and Pearl Jam, who, rather than become overnight sensations like many musicians these days, slowly grew in fame over a long period of time until they became legends.
Sigh No More's eloquent lyrics, strong vocals and exemplary instrumentals will leave the listener in awe at the brilliance of the band. Audiences will be left in awe at the band's ingenious album, and anxiously awaiting the band's next release.