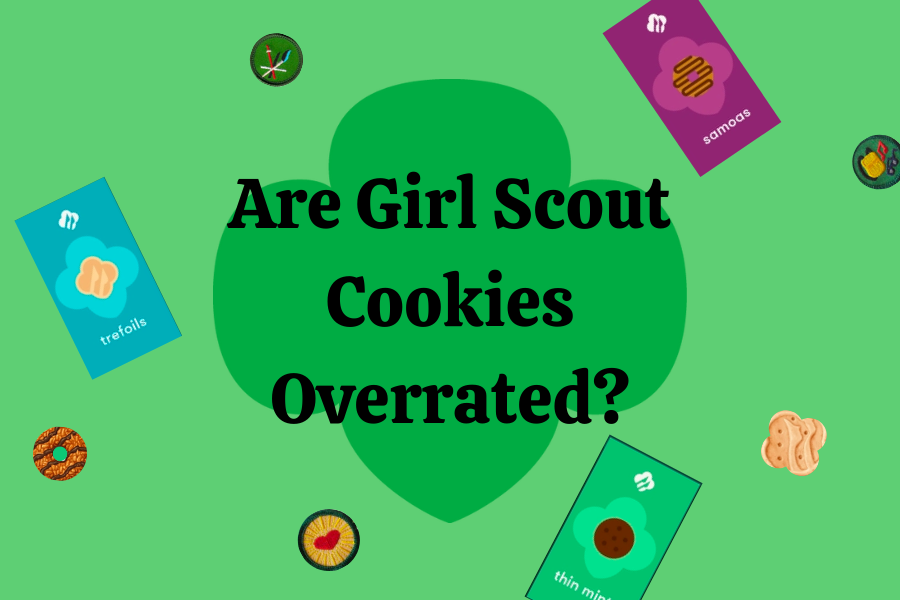 Samoa or Sa-no-a
February 2, 2022
Give me S'more
The twelve wonders of the world, every single flavor of Girl Scout cookies. There is no better feeling than catching a glimpse of a sash, a smiling scout and a table filled with cookie boxes. Although the price may be a bit excessive, the price tag is overshadowed by the quantity and the quality of the cookies. 
Every flavor simply hits. My all-time favorite is a classic Thin Mint. The combination of chocolate and mint merges in such perfect amounts that neither flavor is overpowering. It just works. They recreate multiple different peanut butter cookies, each better than the inspiration they came from. These cookies are for all ages and for all flavor palettes. Some with multiple flavors combined and others keeping it simple. I don't like coconut or caramel and even I can appreciate a good Samoa cookie which highlights both of those tastes. 
Additionally, the size of the cookies and amount in the box is the desired amount for any cookie lover. Instead of just having one large cookie, you get multiple in bite-size, letting you enjoy more at once. There are few people that would be angry about being able to have more cookies. 
Overall, there is no better time than girl scout cookie time. Having twelve flavors to choose from, there is no way you cannot find one you'll wait for all season. Five dollars is worth endless amounts of happiness when they're spent on these cookies. So next time you go out to the store or your favorite restaurant, look around the front, find the girl with a big smile, a sash and cookies that never disappoint. 
Leave a Comment
Do-Si-Don't like them
Yes, I will admit that Girl Scout cookies are semi-tasty, and some of the flavors are creative. Don't get me wrong; I'm in support of the Girl Scouts supporting their troops by selling the cookies, but I would never personally buy them. I will start out with the obvious reason I am labeling myself anti-Girl Scout cookies for the sake of this article. The cookies are overpriced. 
A box of cookies is $5 or $6 per box, depending on the kind. I know I may differ from others in this claim, but I would not pay this much for a box of cookies. I know, I know, you're thinking "It's going to a good cause." That statement is correct; however, when the fine arts departments sell $1 chocolate bars, I am much more inclined to purchase. I strongly prefer heading to a dollar store or a WinCo and buying $2 knock-off Girl Scout cookies. Not only are they cheaper, but they also carry a higher quantity. I suppose this is the debate surrounding this problem: Is the benefit of supporting the troops worth the upcharge of cookies?
Additionally, the cookies themselves are average, to say the least. Now, I may be more persuaded to buy a pack of cookies if they stood out as over-the-top, gourmet cookies, but they're not. I wouldn't notice the difference between a dollar store pack of "toasted coconut, caramel and chocolate cookies" and a pack of Samoas. Similarly, I would not know the difference between "chocolate mint cookies" and Thin Mints. I know, Thin Mints are probably the most popular cookie from the Girl Scouts, but I have made my own recipe that tastes just as good. 
If I had to make one suggestion to the Girl Scouts, I would say they need to step up the quality of their cookies. I'm not saying they are bad, but they are not worth the money, and they don't stand out as something I would go out of my way to purchase once a year. 
Leave a Comment