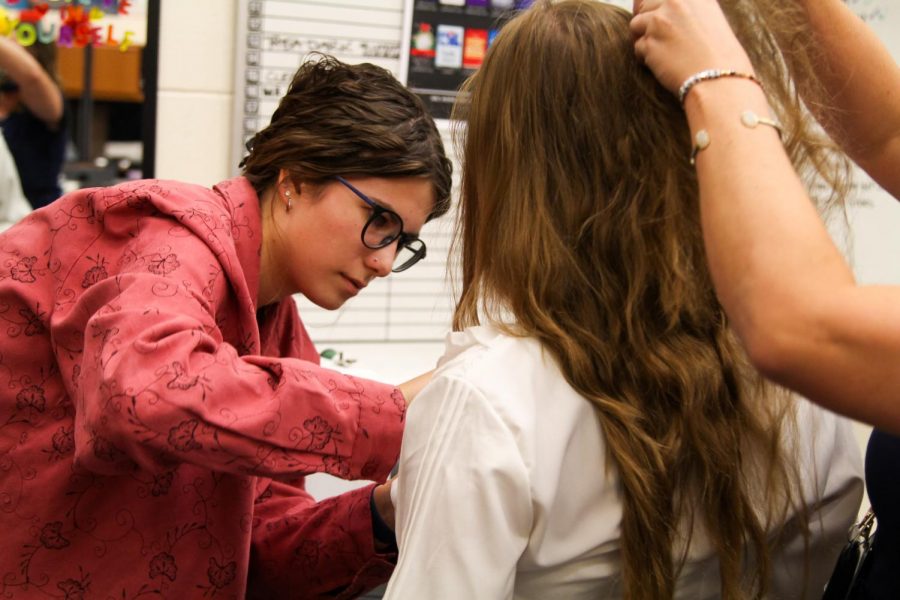 Mia Chase, Tech Director
Senior Mia Chase takes on the role of tech director, a job usually assigned to an adult. Mia's main responsibilities require overview and direction over all crewheads. 
"Every single technical aspect I oversee and direct it to make sure it goes the way we want it," Chase said. "I design every single aspect with crew heads just to make the individual aspects look good. I am in charge of lights, sounds, set, paint, costumes, and props."
This is Chase's fifth year of theater, and she's worked her way up to tech director through experience with costumes, where she built on her passion for clothing design.
"My freshman year I didn't really know what I wanted to do so I was put on costume crew," Chase said. "Sophomore and junior year I was the costume mistress, or the costume crew head, and that's when I decided I wanted to major in fashion design in college next year."
Though it is the beginning of the year, Chase's job as tech director has not been without its challenges. The fall show's quick approach has proved difficult when it comes to managing time. 
"The show we had to put together in a month, time has been the biggest issue," Chase said. "That's always the biggest issue."
Chase's independence has raised some challenges when it comes to perfectionism but has allowed her room to grow through the collaboration of crew heads. 
"It's very stressful because I am the type of person that likes to do things myself, which was easier when I was a crew head because I was used to doing everything myself," Chase said. "Now that I'm working more with other people it's definitely challenging, but in a good way that I would grow as a person."